Mobile App Developers & Experts
GraceSol has extensive experience in creating high performing, digitally transformative and feature-packed native mobile applications for Android and iOS devices.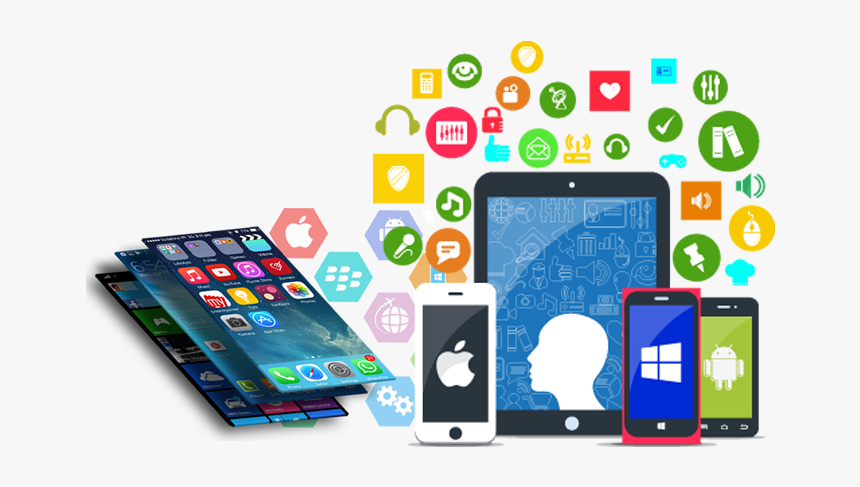 Whether looking to create a mobile application for smartphones, tablets or both, GraceSol has your organization covered no matter the platform it is to be built on or device it is to be used in conjunction with.
As experts at HTML5 development, GraceSol can also build cross-platform mobile applications that will work on any device or platform. Companies and organizations choosing GraceSol  for their custom mobile application development needs can be assured that their final deliverable, no matter the technology its built on, will be secure, scalable and sustainable in whatever environment its hosted.
Any businesses who need a budget friendly mobile app which can perform well in both Android and iOS simultaneously, A Hybrid App is the answer. It is a mixture of Native and Web Apps, with a single database, giving you a cross-platform experience along with scalable features in a highly customized Mobile Application. Few most popular technologies for developing hybrid apps include Ionic, a PhoneGap / Cordova based HTML5 framework and Flutter, Google's UI toolkit for building beautiful, natively compiled apps. If you are looking for mobile apps that is constructed with great design and powerful performance, then we are the company for you. Poor construction and execution of mobile app results in a high rate of rejection. Our experience and expertise allow us to prepare the best strategy for your smartphone development process. We are knowledgeable of what's in-demand for apps and always use the latest components in our final builds. When you work with GraceSol Team, you'll have full access to every stage of the process.
Best Featured App Development
We are one of the leading mobile application development partners being trusted by thousands of businesses across the globe. Our clients can avail themselves of a dedicated mobile app development team, staff augmentation services, and fully-fledged mobile application development outsourcing solutions. We have one of the best android app developers having a strong command in different high level languages who can develop an app with all the requirements according to the user needs.
The company has built its success with a record of delivering innovative apps of best quality owing to its team of App developers. The team has many experts and industries professional person having experience of many years in building Apps.
Mobile App Developers & Experts
Customized Application Development Services for Your Business by GraceSol Technologies
Are you in need of a powerful and tailored software application to meet your unique business requirements? Look no further than GraceSol Technologies! Our team of expert developers specializes in crafting custom applications that align perfectly with your vision and objectives.
At GraceSol Technologies, we understand that off-the-shelf solutions may not always meet your specific needs. That's why we offer top-notch application development services, providing you with a fully customized solution that caters to your business processes and goals.
Our approach to application development is centered around your success. We work closely with you to understand your requirements, analyze your workflows, and conceptualize a solution that optimizes your operations and enhances productivity. Whether you need a web-based application, a mobile app, or a cross-platform solution, our team has the expertise to deliver exceptional results.
Why choose GraceSol Technologies for your application development needs?
Tailored Solutions: We believe in building applications that are tailored to your unique business requirements. Our developers take the time to understand your goals and challenges, ensuring that the final product meets your exact specifications.

Expertise and Experience: With years of experience in the industry, our team possesses the technical expertise and industry knowledge to develop robust, scalable, and secure applications. We stay up-to-date with the latest technologies and best practices to provide you with cutting-edge solutions.

Seamless Integration: We ensure that your application seamlessly integrates with your existing systems and processes, eliminating any disruptions to your workflow. Our developers follow industry standards and best practices to guarantee a smooth integration experience.

User-Centric Design: We prioritize user experience in our application development process. Our designers create intuitive and user-friendly interfaces that enhance usability, ensuring your employees and customers can easily navigate and interact with the application.

Timely Delivery: We understand the importance of time in the business world. Our team is committed to delivering your custom application within the agreed-upon timeframe, without compromising on quality.

Ongoing Support: Our relationship doesn't end with the delivery of the application. We provide comprehensive support and maintenance services to ensure your application remains up-to-date, secure, and performs optimally over time.
Transform your business operations and unlock new possibilities with our custom application development services. Contact GraceSol Technologies today to discuss your project requirements and take the first step toward a tailored software solution that drives your success.