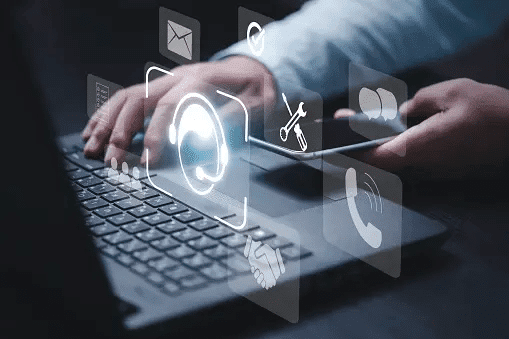 At GraceSol Technologies, we specialize in providing comprehensive website maintenance services to ensure the smooth operation and up-to-date functionality of your website. Our experienced team of developers and designers works closely with you to understand your specific requirements and create tailored solutions that align with your business objectives. We offer ongoing support and maintenance to keep your website secure, enhance its performance, and address any bugs or issues that may arise.Our website maintenance services encompass regular updates, content management, database management, security enhancements, and backup and recovery solutions. With our expertise in website maintenance, you can confidently focus on your core business while we take care of the technical aspects of your website. Our goal is to deliver reliable, efficient, and cost-effective solutions that keep your online presence thriving.
Professional Software Development Service Provider 
An international software development company with a focus on cutting-edge technology, GraceSol . To put together a group of skilled programmers who can assist them in achieving their objective, we work closely with our clients. We've had eight years to build up a strong reputation and substantial expertise in this area. We take pride in making sure that our clients have access to the most up-to-date technical breakthroughs by providing highly effective solutions and staying current on the latest trends. Your firm will have the chance to work with some of the most experienced industry experts, whose creative software and application development skills may propel your organisation to the next level of success, should you choose to associate with GraceSol as your business partner. We take care of your on-demand staffing requirements so you may only use IT knowledge as needed. Find out more about the superior software development services we offer. We pay attention to your needs, financial limitations, and overall goals. No matter how big or small, we find teams to meet your tech needs. We are experts in Agile Software Development. We serve clients all over the world. We actively use SAFe Agile, Dynamic Systems Development Methodology, and Crystal, among other Agile Methodologies. The flavour we employ for each customer varies depending on a variety of factors, including the intricacy of the requirements, the project's and the client's needs, as well as the physical working environment. Together, we and our client develop a working method that is appropriate for the project and the client's requirements. Agile gives software developers the flexibility to swiftly modify the course of a project or feature and to react to market forces in real time.
Professional Website Maintenance Company
Empower Your Online Success with Professional Website Maintenance Services
GraceSol is a trusted professional website maintenance company dedicated to helping businesses achieve unprecedented online success. Our team of experts specializes in providing advanced web development solutions that embody your unique brand identity and drive your business objectives forward. With a focus on captivating designs and seamless functionality, we create websites that leave a lasting impact on your target audience. Leveraging our extensive industry knowledge, cutting-edge technologies, and client-centric approach, we are committed to exceeding your expectations.
Enhanced User Experience and SEO: Boosting Your Online Visibility
In today's ever-evolving digital landscape, having a website that engages users across all devices is essential. At GraceSol, we prioritize responsive design to ensure that your website not only looks stunning but also functions flawlessly on desktops, laptops, tablets, and mobile devices. Our skilled developers utilize advanced techniques and technologies to create responsive designs that seamlessly adapt to various screen sizes, providing an exceptional user experience. Furthermore, we integrate SEO best practices from the ground up, optimizing your website to enhance online visibility and drive organic traffic.
Security and Reliability: Safeguarding Your Online Presence
We understand the paramount importance of security and reliability in the digital world. At GraceSol, we implement robust security measures and adhere to industry best practices to fortify your website and protect your valuable data from potential threats. Our dedicated team conducts rigorous testing and quality assurance procedures to ensure that your website operates smoothly and provides a secure environment for your visitors. With our unwavering commitment to security and reliability, you can trust us to safeguard your online presence while you focus on growing your business.
Streamline and Optimize Your Website with Custom Website Maintenance | GraceSol Technologies
Our team of experienced developers and designers closely collaborates with you to gain a deep understanding of your unique business requirements and develop customized solutions that cater to your specific needs. We offer comprehensive website maintenance services, including regular updates, bug fixes, security enhancements, performance optimization, and content management. Our primary objective is to streamline and optimize your website, enhancing user experience and driving greater engagement. With our website maintenance product development services, you can focus on business growth while we take care of the technical aspects of your website.
Analysis and Consultation: We kickstart our software development process by conducting a thorough analysis of your business requirements and objectives. Through close collaboration, we aim to grasp your distinct challenges and goals, allowing us to provide tailored software solutions that precisely address your needs.
Custom Application Development: Our skilled software developers possess expertise in various programming languages and technologies. Whether you require a web-based application, mobile app, or desktop software, we have the capabilities to deliver customized solutions that align with your business processes and enhance your operations.
User Experience Design: We believe that exceptional software extends beyond functionality and should provide a seamless user experience. Our UX/UI designers work hand in hand with our developers to create intuitive and visually appealing interfaces that optimize user engagement and satisfaction.
Integration and Migration: If you have existing systems or databases that need to be integrated with your new software, we ensure a seamless integration process to maintain a smooth workflow. Additionally, if you require migrating your data from legacy systems to the new software, we provide efficient and secure data migration services.
Quality Assurance and Testing: We strictly adhere to industry best practices for quality assurance and testing to ensure that your software is robust, secure, and reliable. Our dedicated QA team conducts rigorous testing throughout the development lifecycle, identifying and resolving any issues to deliver a high-quality end product.
Ongoing Support and Maintenance: Our commitment to your success extends beyond the development phase. We offer comprehensive support and maintenance services to keep your software up-to-date, secure, and performing optimally. Whether it involves resolving technical issues, implementing updates, or providing user training, our team is here to provide ongoing support.
Scalable Solutions: We design and develop software solutions with scalability in mind. As your business expands and evolves, your software should seamlessly accommodate increased demands. Our scalable solutions enable seamless expansion and adaptability to meet your evolving requirements.
At GraceSol Technologies, we bring together technical expertise, industry experience, and a customer-centric approach to deliver customized software solutions that empower your business. Our team of software development professionals is committed to excellence and dedicated to helping you achieve your business goals through innovative and reliable software solutions.