Get

an online store that looks good and converts more
visitors into paying customers.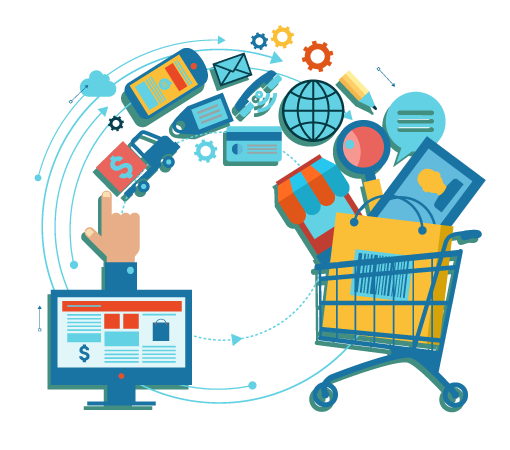 Using the most recent technology, GraceSol develops B2B and B2C web shops that precisely meet your company's needs. Our eCommerce services include full-cycle development and upkeep, resulting in stunning online stores that increase conversion rates with user-friendly layouts and smooth support. We design visually attractive online retail websites that are totally mobile responsive and combine great UI and UX to make it easy for your customers to browse through the products and finish the entire purchase process in a matter of minutes.
E-Commerce Development Service Provider 
The majority of ecommerce websites still choose Magento, the most popular open source ecommerce platform. The GraceSol team is the best choice for your ecommerce website projects due to our extensive experience with Magento ecommerce customization & development. SanDiegoMolding, a firm, is the parent company of Crownmoulding & Flexmouldings. GraceSol gave them a strategic design update that was aimed at boosting conversion and cutting conversion time by 27%. For the building of B2B eCommerce websites, we put a strong emphasis on merchant friendliness and guarantee a solid platform that satisfies all requirements with a maximum level of uptime and dependability. We are aware that the foundation of a successful e-commerce channel is the combination of information and commerce to create a remarkable experience. Your website and app should be more effective. We have no doubt that GraceSol's experience will finally provide the first-class ambiance your guests deserve with the top-notch software platforms and integrated technological systems we provide. In terms of software, mobile phone applications, responsive web design, and web app development services, we offer exceptional development solutions. The distinguishing trait of the excellent web and app development process that we will implement for you is captivating, simple-to-read content that will elicit a strong call to action, ultimately driving your audience to the next stage of the buyer's journey. We will investigate how we can create and incorporate accounting tools, like Wocommerce or Shopify, to your platforms.
Web Design and Development Services
Experience Online Success with Expert Web Design and Development Services
GraceSol offers professional web design and development services that empower businesses to achieve unparalleled online success. Our dedicated team of experts leverages advanced AI marketing techniques to deliver custom web solutions that embody your brand identity and drive your business objectives forward. With a focus on captivating designs and seamless functionality, we create websites that leave a lasting impact on your target audience. Through our industry knowledge, cutting-edge technologies, and customer-centric approach, we are committed to surpassing your expectations.
Enhanced User Experience and Optimized SEO for Increased Visibility
In the rapidly evolving digital landscape, having a website that engages users across all devices is crucial. At GraceSol, we prioritize responsive design, ensuring that your website not only looks stunning but also functions flawlessly on desktops, laptops, tablets, and mobile devices. Our skilled developers utilize advanced techniques and technologies to create responsive designs that seamlessly adapt to various screen sizes, delivering an exceptional user experience. Moreover, we integrate SEO best practices from the ground up, optimizing your website to enhance online visibility and drive organic traffic.
Security and Reliability: Protecting Your Online Presence
We recognize the paramount importance of security and reliability in today's digital world. At GraceSol, we implement robust security measures and adhere to industry best practices to fortify your website and safeguard your valuable data against potential threats. Our dedicated team conducts rigorous testing and quality assurance procedures to ensure that your website operates smoothly and provides a secure environment for your visitors. With our unwavering commitment to security and reliability, you can trust us to protect your online presence while you focus on growing your business.
"Powerful E-commerce Solutions to Drive Online Success by GraceSol Technologies
In today's digital landscape, a robust and user-friendly e-commerce platform is essential for businesses to thrive and succeed online. With our expertise in digital marketing, web development, web design, social media marketing, graphic design, web hosting, and Google Ads services, we are dedicated to delivering tailored e-commerce solutions that help you achieve your online goals.
Why Choose GraceSol Technologies for E-commerce Development?
Comprehensive E-commerce Solutions: We provide end-to-end e-commerce development services, covering every aspect of building and optimizing your online store. From intuitive user interfaces and secure payment gateways to inventory management and order fulfillment, we have you covered.

Customized Approach: We understand that each business has unique requirements and goals. Our experienced e-commerce development team works closely with you to understand your specific needs, target audience, and industry dynamics. We then create a customized e-commerce solution that aligns with your brand, enhances user experience, and drives conversions.

User-Centric Design: We prioritize creating engaging and intuitive user interfaces for your e-commerce platform. Our designers combine aesthetics with user experience principles to ensure that your online store is visually appealing, easy to navigate, and optimized for conversion.

Scalable and Secure Infrastructure: We build e-commerce platforms that can grow with your business. Our development team utilizes scalable infrastructure and implements robust security measures to protect your customers' data, instilling trust and confidence in your online store.

Integrated Marketing Capabilities: As a full-service digital agency, we seamlessly integrate our e-commerce development services with our digital marketing expertise. From search engine optimization (SEO) to social media marketing and Google Ads campaigns, we help drive traffic, increase visibility, and maximize your online sales potential.
Our E-commerce Development Process:
Discovery and Planning: We start by gaining a deep understanding of your business objectives, target audience, and e-commerce goals. We then develop a comprehensive plan that outlines the features, functionalities, and technical requirements for your online store.

Design and User Experience: Our skilled designers create visually appealing and user-centric e-commerce interfaces. We focus on creating intuitive navigation, attractive product displays, and optimized checkout processes to enhance the overall user experience.

Development and Integration: Our experienced developers utilize robust e-commerce platforms and frameworks to build your online store. We integrate essential features such as secure payment gateways, inventory management systems, and customer relationship management (CRM) tools.

Testing and Quality Assurance: We conduct rigorous testing to ensure the functionality, performance, and security of your e-commerce platform. We thoroughly test your online store across different devices, browsers, and operating systems to deliver a seamless experience to your customers.

Launch and Optimization: Once your e-commerce platform is ready, we assist with the deployment and launch process. We provide ongoing support, analyze performance metrics, and optimize your online store based on user behavior and market trends.
Take your business to new heights with a powerful and user-friendly e-commerce platform.