Dedicated Server Hosting
6x faster Speed & Performance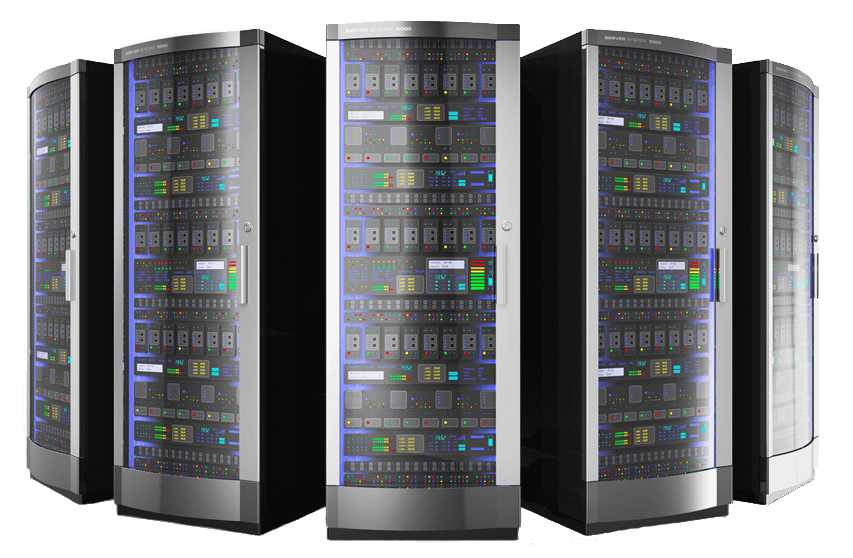 Dedicated server hosting is an ideal solution for growing businesses with mission-critical sites. You can make changes as you like, and dedicated servers are the most secure and flexible. Our high performance dedicated server comes with 99.9% uptime guarantee. We use industry best practices and the best data centers to ensure your server is up 99.9 % of the time. We provide powerful bare-metal servers to run your most demanding applications. All the dedicated server  are powered by Intel and connected to massive pool of premium bandwidth that are suitable for maximum performance and reliability to cater heavy visitor traffic demand. All our servers are hosted in top-tier ISO certified Data Centers located in USA with locations available for your choice. You will have a full root-level access and you are free to install any application or software you need to power your website.
Top
Domain and Hosting Services Provider
As a leading provider of domain and hosting services, GraceSol distinguishes itself as the top company in the industry. Our commitment to excellence, along with a team of dedicated experts, positions us as the go-to partner for exceptional website development solutions.
Unmatched Expertise in Domain and Hosting Services
When it comes to domain and hosting services, we are the trusted experts delivering top-notch solutions. Our skilled team possesses extensive experience in crafting websites that not only meet but exceed expectations. We merge technical expertise with creative flair to build stunning websites that captivate your target audience and drive conversions.
Choosing the Best Domain and Hosting Services Company
By selecting GraceSol as your domain and hosting services company, you're partnering with the best in the business. We have a proven track record of successful projects across various industries. Our commitment to innovation and staying ahead of technology ensures we provide cutting-edge solutions tailored to your unique business needs.
Cutting-edge Domain and Hosting Services
Our comprehensive suite of domain and hosting services covers every stage of your online journey. From concept and design to coding, testing, and deployment, our meticulous team handles each aspect of the development process. We follow industry best practices and leverage the latest tools and technologies to ensure your website excels in both aesthetics and functionality.
Unparalleled Expertise in Custom Domain and Hosting Solutions
We understand that your business requires a customized approach. Our expertise lies in delivering tailor-made domain and hosting solutions that align perfectly with your brand identity and objectives. By thoroughly understanding your business, we create websites that reflect your unique value proposition and leave a lasting impression on your visitors.
Delivering a Seamless User Experience
A great website goes beyond visual appeal; it must also provide an exceptional user experience. At GraceSol, we prioritize user-centric design principles to ensure your website is intuitive, easy to navigate, and optimized for various devices and screen sizes. By seamlessly blending aesthetics and functionality, we create websites that engage your visitors and increase conversion rates.
Experience the Difference with the Top Domain and Hosting Services Provider
Choosing GraceSol as your domain and hosting services partner means gaining access to unparalleled expertise, cutting-edge technologies, and a team dedicated to your success. We take pride in delivering websites that surpass your expectations, helping your business thrive in the digital landscape.
Dedicated Hosting Services by GraceSol Technologies
Welcome to GraceSol Technologies, your trusted provider of dedicated hosting services. As a leading provider of digital marketing, web development, web design, social media marketing, graphic design, and Google Ads services, we understand the importance of reliable and high-performance hosting solutions to support your online presence.
At GraceSol Technologies, we offer dedicated hosting services that provide you with exclusive server resources and enhanced security for your website and applications. Our dedicated hosting solutions are designed to meet the unique needs of businesses that require robust performance, scalability, and full control over their hosting environment.
Key features of our Dedicated Hosting services:
Superior Performance: With dedicated hosting, you have dedicated server resources, ensuring optimal performance for your website or application. You can expect faster loading times, minimal downtime, and seamless user experiences, even during peak traffic periods.

Enhanced Security: We prioritize the security of your data and online assets. Our dedicated hosting solutions come with advanced security features, including firewalls, intrusion detection systems, regular security updates, and optional SSL certificates. You can have peace of mind knowing that your data is protected against unauthorized access and cyber threats.

Scalability and Flexibility: Our dedicated hosting services provide you with the flexibility to scale your resources as your business grows. Whether you need additional processing power, storage, or bandwidth, our dedicated hosting solutions can be easily customized to meet your evolving requirements.

Full Control and Customization: With dedicated hosting, you have complete control over your server environment. You can customize the server settings, install the software and applications of your choice, and have full root access. This level of control allows you to optimize the hosting environment to suit your specific needs.

Expert Technical Support: Our dedicated hosting services come with reliable technical support. Our team of hosting experts is available round the clock to assist you with any hosting-related queries, troubleshooting, or assistance you may require.
At GraceSol Technologies, we understand that reliable hosting is crucial for the success of your online business. Our dedicated hosting services are backed by robust infrastructure, advanced technologies, and a commitment to providing exceptional services.
Domain and Hosting Services