COMPANY PROFILE DESIGN SERVICES
Contact GraceSol to create attractive and unique company profile design services today!!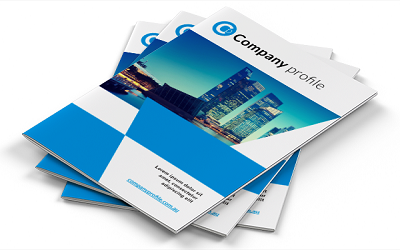 A company profile design is one of the essential assets of a company as it states the vision and mission of a particular company, and what the company plans to achieve in the future. A professional and unique company profile will help any business to stand out and generate a better chance of getting more business opportunities in their field of interest.
GraceSol is recognized for its professional and unlimited creative company profile designing solutions for clients all across the globe. We have the most diverse experience and offer eye-catching design solutions serving retail, financial, educational, construction, oil and gas, hospitals, and startups to large scale industries.
Having a detailed, powerful, and yet attractive company profile helps stand out from the crowd. A proper company profile design is capable of sending your customers a clear picture that you believe in quality. We create the best company profile design considering your business nature, products, your imagination, ideas, your marketplace, targeted customers, and your vision. Combining these elements, our team of expert designers prepares the profile design, keeping in mind your needs and expectations.
Boucher Designing Services Agency
GraceSol: Empowering Your Brand with Bespoke Brochure Designing Services
Unlock the potential of your brand with GraceSol, a trusted agency specializing in bespoke brochure designing services. We are renowned for our exceptional services and have a team of experts who are dedicated to delivering outstanding results. With our deep industry knowledge, cutting-edge technologies, and client-centric approach, we are committed to crafting brochures that truly reflect your brand identity and drive your business forward.
Captivating Designs for Lasting Impressions
At GraceSol, we understand that a well-designed brochure is essential for making a lasting impression on your target audience. Our team of skilled designers leverages their creativity and expertise to create captivating designs that not only attract attention but also effectively communicate your message. We pay meticulous attention to every detail, ensuring that your brochure stands out and leaves a lasting impact.
Seamless Functionality for Enhanced User Experience
In today's digital landscape, it's crucial to provide an exceptional user experience across different devices. At GraceSol, we prioritize responsive design, ensuring that your brochure looks stunning and functions flawlessly on various platforms, including desktops, laptops, tablets, and mobile devices. Our skilled designers leverage the latest techniques and technologies to create brochures that seamlessly adapt to different screen sizes, providing a seamless user experience for your audience.
Optimized for Online Visibility and Engagement
We understand that brochures play a vital role in your online presence. With our expertise in SEO best practices, we optimize your brochures from the ground up to enhance online visibility and drive organic traffic to your brand. By strategically incorporating keywords and implementing SEO techniques, we ensure that your brochures reach the right audience and generate the desired engagement.
Safeguarding Your Brand's Reputation
At GraceSol, we prioritize the security and reliability of your brand. We implement robust security measures and follow industry best practices to protect your brochure and valuable data from potential threats. Our dedicated team conducts rigorous testing and quality assurance procedures, ensuring that your brochures operate smoothly and provide a secure environment for your audience. With our unwavering commitment to security and reliability, you can trust us to safeguard your brand's online presence.
Partner with GraceSol for Exceptional Brochure Designing Services
Choose GraceSol as your trusted partner for bespoke brochure designing services. Our expertise, combined with our client-centric approach, ensures that we deliver brochures that exceed your expectations. With our attention to detail, captivating designs, and seamless functionality, we empower your brand to make a significant impact in the digital world. 
Professional Profile Design Services by GraceSol Technologies
In the digital age, having a visually appealing and professional profile is essential for individuals and businesses alike. At GraceSol Technologies, we offer comprehensive Profile Design Services to help you create a powerful and captivating online presence that showcases your unique identity and strengths.
Create an Impactful Profile
Personal Branding: Our designers specialize in creating visually stunning profiles that reflect your personal brand. Whether you're a freelancer, entrepreneur, or professional looking to enhance your online presence, we craft profiles that effectively communicate your expertise, skills, and unique value proposition.

Business Profiles: For businesses and organizations, we develop compelling profiles that align with your brand identity and convey a strong and consistent message. Our designers work closely with you to understand your business goals and create profiles that resonate with your target audience and leave a lasting impression.

Social Media Profiles: Social media platforms are powerful tools for connecting with your audience and building your online presence. We optimize your social media profiles, such as LinkedIn, Facebook, Twitter, and Instagram, with visually appealing designs that align with your brand and engage your followers.

Creative Visual Elements: Our designers employ creative visual elements, including captivating graphics, professional photography, and thoughtfully curated color schemes, to create profiles that stand out. We ensure that every visual aspect of your profile enhances your brand image and captures the attention of your target audience.

Consistent Branding: Maintaining a consistent brand image across all your profiles is crucial for building trust and recognition. We ensure that your profile designs are in line with your overall branding guidelines, including fonts, colors, and logo placement. This consistency reinforces your brand identity and enhances brand recall.

Customized Solutions: Our Profile Design Services are tailored to your specific needs and objectives. We take the time to understand your target audience, industry, and unique selling points to create profiles that effectively communicate your message and help you achieve your goals.
At GraceSol Technologies, we understand the importance of a professional and visually appealing profile in today's digital landscape. Our experienced designers are dedicated to helping you create profiles that make a strong impression and set you apart from the competition.