BROCHURE DESIGN SERVICES
Brochure Design Company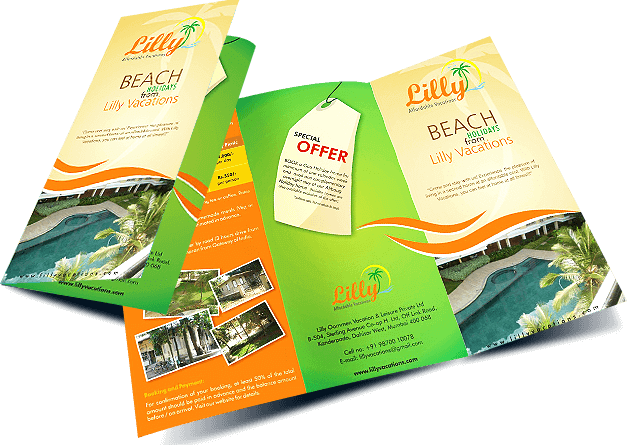 Corporate Brochure Design
Medical Brochure Design
Manufacturing Plant Brochure Design
Equity Brochure Design
Fabric Brochure Design
Engineering Brochure Design
Catalogue Design
Real Estate Brochure Design
Tours & Travels Brochure Design
Company Brochure Design
Car Showrooms Brochure Design
Jewellery Brochure Design
Construction Brochure Design
Chemical Company Brochure Design
GraceSol a renowned brochure designing company is helping clients build an impactful and powerful brochure to use it as an effective marketing tool. We have expertise in brochure designing services and strengthening brand image. We create stunning company brochure designs as per the nature of your business. Our design team have over 6 years experience and skills in delivering innovative brochure design to clients across many sectors. We understand it's important to know your objectives, your demographic and purpose and we work hard to deliver a brochure that reflects the right message for you.
Everything might now be digital, but we believe that nothing beats a company brochure for getting your message across. Printed brochures have survived the digital revolution and have emerged stronger, proving that creative brochure design will captivate and interest an audience and appeal to more senses than anything online. Providing your customers with a piece of material they want to pick up and peruse ensures your business is being put in front of potential customers. A well designed and produced brochure will also reinforce the credibility of a business and improve trust levels for the online presence.
Bi-Fold Brochures
Tri Fold Brochures
Booklet
Flyer
Folder
Insert
If you are looking for Brochure Designers then please contact us at info@gracesol.com
Whatever be your requirement, an appealing brochure design, a tri-fold brochure, or a detailed catalogue, we have the proficiency to deliver you the required outcome within stipulated time and at a cost that suits your business.
Any businesses who need a budget friendly mobile app which can perform well in both Android and iOS simultaneously, A Hybrid App is the answer. It is a mixture of Native and Web Apps, with a single database, giving you a cross-platform experience along with scalable features in a highly customized Mobile Application. Few most popular technologies for developing hybrid apps include Ionic, a PhoneGap / Cordova based HTML5 framework and Flutter, Google's UI toolkit for building beautiful, natively compiled apps. If you are looking for mobile apps that is constructed with great design and powerful performance, then we are the company for you. Poor construction and execution of mobile app results in a high rate of rejection. Our experience and expertise allow us to prepare the best strategy for your smartphone development process. We are knowledgeable of what's in-demand for apps and always use the latest components in our final builds. When you work with GraceSol Team, you'll have full access to every stage of the process.
Top Brochure Designing Company
GraceSol Technologies is a leading brochure design company that specializes in creating top-notch brochures for businesses across various industries. With our expertise in graphic design and a keen eye for detail, we craft visually stunning and impactful brochures that effectively communicate your brand message.
Our team of skilled designers understands the importance of a well-designed brochure in capturing the attention of your target audience. We blend creativity and innovation to produce brochures that not only showcase your products or services but also leave a lasting impression.
As a top brochure design company, we take a client-centric approach, working closely with you to understand your unique requirements and goals. Whether you need a brochure for marketing campaigns, trade shows, or informational purposes, we tailor our designs to align with your brand identity and objectives.
At GraceSol, we prioritize quality and excellence in every project we undertake. Our designers pay meticulous attention to every detail, from choosing the right color schemes and typography to incorporating engaging visuals and compelling content. We ensure that your brochures are not only aesthetically pleasing but also effectively convey your key messages to your target audience.
Partnering with us means gaining access to our extensive experience in brochure design and a commitment to delivering exceptional results. We strive to exceed your expectations and help your business stand out from the competition with professionally designed brochures that make a lasting impact.
Professional Brochure Design Services by GraceSol Technologies
Welcome to GraceSol Technologies, your trusted partner for professional brochure design services. As a comprehensive digital solutions provider, we understand the importance of visually captivating marketing materials to effectively communicate your brand message. Our expert graphic design team is skilled in creating stunning and impactful brochures that engage your target audience and leave a lasting impression.
At GraceSol Technologies, we combine creativity, strategy, and attention to detail to design brochures that align with your brand identity and marketing objectives. Whether you need brochures for product promotions, company profiles, or event announcements, our team will collaborate closely with you to understand your specific requirements and deliver exceptional results.
Our brochure design process begins with a thorough understanding of your brand, target audience, and key messaging. We then translate this information into visually appealing designs that showcase your products, services, or events in the most compelling way. Our skilled designers pay attention to typography, imagery, color schemes, and layout to create brochures that effectively convey your brand story and capture the attention of your prospects.
Why choose GraceSol Technologies for your brochure design needs? We offer:
Professional Expertise: Our designers are experienced in creating brochures that reflect your brand's unique personality and capture your audience's attention.

Customized Solutions: We understand that every business has unique requirements. Our team will tailor the brochure design to align with your brand identity and marketing goals.

High-Quality Designs: We prioritize quality and ensure that the final brochure design meets the highest standards of aesthetics and professionalism.

Timely Delivery: We understand the importance of meeting deadlines. Our team is committed to delivering your brochure designs within the agreed-upon timeframe.

Client Collaboration: We value your input and ideas. Throughout the design process, we encourage open communication and collaboration to ensure that the final result exceeds your expectations.
Elevate your marketing efforts with professionally designed brochures that captivate and engage your audience. Contact us today to discuss your brochure design requirements and how our team can help you achieve your marketing objectives.