Web Designing Services in Dubai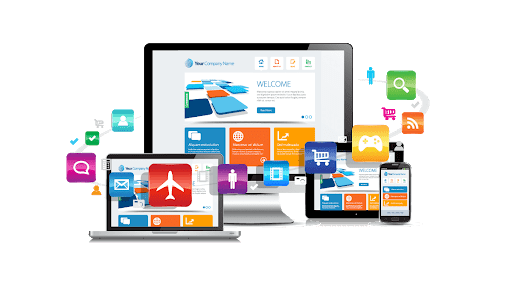 As a prominent web designing company in Dubai, GraceSol goes beyond mere website design and development. We specialize in elevating your business, online presence, and brand identity to new heights. Our dedicated team will create a custom website design that upholds the professional image you have meticulously cultivated. GraceSol stands at the forefront of delivering exceptional web design and development solutions.
Collaborating closely with our clients, we tailor e-commerce solutions to match specific business requirements. With extensive knowledge, abundant resources, and vast experience, GraceSol is capable of delivering a thriving e-commerce solution for your business. Our team of expert website designers has successfully assisted businesses worldwide in launching highly effective and visually appealing e-commerce websites.
GraceSol, the premier web designing company in Dubai, is dedicated to building custom-fit WordPress websites that are professional, SEO-optimized, and visually stunning, regardless of the stage of your organization. Our packages range from entry-level to sophisticated and premium options. With a results-driven approach, GraceSol brings together a talented team of web designers, SEO experts, and WordPress web developers to create attractive and profitable websites.We prioritize flawless user experiences for all our clients, whether they are small business owners, corporate enterprises, or high-traffic e-commerce websites. By leveraging the latest technology and our own website research methodologies, our web design company ensures seamless and user-friendly interactions. If you are seeking a professional website that aligns with your business needs, request a free estimate or explore the pricing details of our custom website development services. By choosing GraceSol, you gain access to a dedicated team committed to your company's growth and establishing a high-quality online presence.
Our unique collaborative design method allows you to share your vision, enabling us to create a tailored website that meets the specific requirements of your new business or startup. Through our distinctive approach to WordPress website design and Content Management systems, we can think outside the box and create original graphic designs and templates for your company website. Keen To Design, a leading website design company, ensures the perfect balance between stunning visuals and excellent functionality.At GraceSol, you will be amazed by the superior quality and competitive pricing we offer. We provide design packages for every budget, resulting in stunning, uniquely personalized, and top-notch websites that are ready for social media marketing, lead generation, and high conversion rates. Our web development team specializes in designing websites that not only look fantastic but also turn visitors into customers. Whether you run a blog, an online store, or any other type of online business, our expertise in WordPress and e-commerce allows us to tailor the structure of your website to meet your specific needs. While we excel in WordPress and e-commerce, we are also proficient in working with custom content management systems.
Web Designing Company Dubai
Professional Web Design Services in UAE by GraceSol Technologies
GraceSol Technologies, the premier web designing company in Dubai, specializes in delivering professional web design services that seamlessly blend creativity, functionality, and user experience. Our goal is to create stunning websites that captivate visitors and drive tangible results for your business.
Experience Customized Web Design
Our web design services are tailored to meet your specific business requirements. Through close collaboration, we gain a deep understanding of your brand identity, target audience, and goals, enabling us to create a custom website design that effectively communicates your message and aligns with your vision.
Responsive and Mobile-Friendly Designs
With the increasing prevalence of mobile devices, having a website that adapts seamlessly to different screen sizes is essential. Our web designs are responsive and optimized for mobile devices, ensuring a consistent and engaging user experience across all platforms.
Intuitive User Experience
We recognize the vital role user experience plays in determining the success of a website. Our focus is on creating intuitive navigation, clear calls-to-action, and a user-friendly interface that enhances usability and guides visitors towards their desired actions.
Visual Appeal and Branding
Our web design team combines artistic creativity with a deep understanding of branding. We craft visually stunning designs that capture the essence of your brand, incorporating your colors, fonts, and visual elements to establish a cohesive and memorable online presence.
SEO-Friendly Design
A well-designed website goes hand in hand with effective search engine optimization (SEO). We optimize the structure, content, and coding of your website to ensure it is search engine friendly, helping you achieve higher rankings in search results and attract organic traffic.
Integration of Multimedia Elements
To enhance user engagement and leave a lasting impression, we seamlessly integrate multimedia elements such as images, videos, and interactive features into your web design. This breathes life into your content and creates a dynamic and immersive user experience.
Ongoing Support and Maintenance
We believe in fostering long-term partnerships with our clients. Beyond the initial design phase, we offer ongoing support and maintenance services to keep your website running smoothly and up to date. From regular updates to security monitoring, we ensure your website remains secure, functional, and optimized.
At GraceSol Technologies, we leverage our expertise in web design, user experience, and digital marketing to create websites that not only look visually appealing but also drive business growth. Our team of talented designers and developers is passionate about crafting unique and impactful web designs that resonate with your target audience.