Shared Hosting
With Business Reseller, WHM Reseller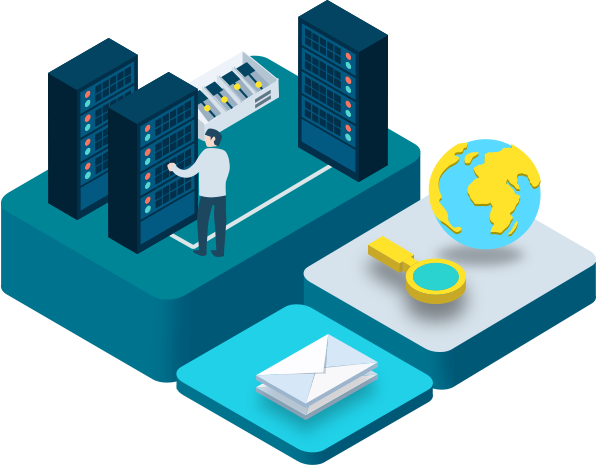 GraceSol is one of the leading Cheap Web Hosting, best cheap web hosting and domain registration service provider, since 2015. GraceSol offers Best Web Hosting Providers | Cheap Web Hosting, cheap website hosting with multi domain web hosting solutions and cheap domain registration service from startups, small to entreprise level business to make their online identity. All the hosting and website domain registration plans at GraceSol are cost effective, reliable with high-performance servers. Each of the cheap web hosting plans India at GraceSol comes with email, FTP, and sub-domains. We do offer custom web hosting plans according to the clients requirements. GraceSol offers cheap domain registration along with Best Linux hosting services for the startups, freelancer and Business web hosting.
Best Shared Hosting Services
Unlock Unprecedented Online Success with GraceSol's Shared Hosting Services
GraceSol is your gateway to online success through the best shared hosting services. As a leading provider of shared hosting, we specialize in delivering exceptional solutions that empower your website's performance. With our deep industry knowledge, cutting-edge technologies, and client-centric approach, we ensure that your website receives the highest level of reliability, speed, and security.
Custom Web Development for a Lasting Online Impression
At GraceSol, we excel in custom web development, creating websites that reflect your unique brand identity and drive your business objectives forward. Our team of experts is dedicated to crafting captivating designs and seamless functionality that leave a lasting impression on your target audience. From the initial concept to the final product, we work closely with you to exceed your expectations and deliver a website that stands out in the digital landscape.
Responsive Design and SEO: Enhancing Your Online Visibility
In today's digital era, having a responsive website that engages users across all devices is crucial. At GraceSol, we prioritize responsive design, ensuring that your website looks stunning and functions flawlessly on desktops, laptops, tablets, and mobile devices. Our skilled developers leverage the latest techniques and technologies to create responsive designs that adapt to various screen sizes, providing a seamless user experience.
Reliable Shared Hosting Services by GraceSol Technologies
As a leading provider of comprehensive digital solutions, GraceSol Technologies offers reliable Shared Hosting services that cater to businesses and individuals who are looking for a cost-effective and efficient hosting solution. With our Shared Hosting plans, you can confidently host your website on our secure and high-performance servers, backed by our technical expertise and exceptional customer support.
Benefits of Shared Hosting:
Affordability: Shared Hosting is an affordable option for businesses and individuals with budget constraints. By sharing server resources with other users, you can significantly reduce the cost of hosting while still enjoying the benefits of a stable and reliable hosting environment.

Ease of Use: Our Shared Hosting plans are designed to be user-friendly, even for those without technical expertise. With a simple and intuitive control panel, you can easily manage your website, email accounts, databases, and other hosting features without the need for advanced technical knowledge.

Scalability: Our Shared Hosting plans offer scalability, allowing you to start with a basic hosting package and upgrade as your website's needs grow. Whether you need additional disk space, bandwidth, or email accounts, we provide flexible options to accommodate your evolving requirements.

Reliable Performance: Our servers are optimized for performance and reliability, ensuring that your website is accessible to visitors around the clock. We monitor our servers proactively and implement advanced security measures to safeguard your data and protect your website from potential threats.

Technical Support: We take pride in offering exceptional customer support to our Shared Hosting clients. Our knowledgeable support team is available 24/7 to assist you with any hosting-related issues or questions you may have. We strive to provide prompt and reliable support, ensuring a smooth hosting experience for you and your website visitors.

Feature-Rich Hosting: Our Shared Hosting plans come with a comprehensive set of features to meet your website's needs. From ample disk space and bandwidth to email accounts, databases, and one-click installation of popular CMS platforms like WordPress, we provide the tools and resources necessary to build and manage your website effectively.
At GraceSol Technologies, we understand the importance of reliable and cost-effective hosting solutions for your online presence. Our Shared Hosting services are designed to meet the needs of businesses and individuals who value performance, affordability, and exceptional customer support.