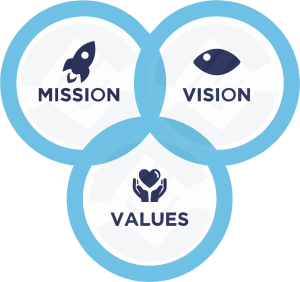 Our mission at GraceSol Technologies is to empower businesses with innovative web design and digital marketing solutions that drive their online success. We are dedicated to delivering exceptional services that help our clients establish a strong digital presence, connect with their target audience, and achieve measurable growth.
We are committed to providing cutting-edge web design services that combine creativity, functionality, and user-centric design principles. Our mission is to create visually captivating websites that not only reflect our clients' unique brand identities but also deliver seamless user experiences. We aim to leverage the latest technologies and design trends to ensure that our clients' websites are at the forefront of digital innovation.
In the realm of digital marketing, our mission is to develop strategic campaigns that maximize our clients' online visibility and generate tangible results. We utilize data-driven insights, market research, and industry best practices to create customized marketing strategies tailored to our clients' specific goals and target audience. Whether it's optimizing search engine rankings, crafting engaging social media campaigns, or creating compelling content, we strive to deliver measurable outcomes that contribute to our clients' business growth.
We are dedicated to building strong and long-lasting relationships with our clients. Our mission is to be a trusted partner, providing ongoing support, guidance, and expertise to help businesses navigate the ever-evolving digital landscape. We aim to be responsive, reliable, and proactive in addressing our clients' needs, ensuring their satisfaction and success.
As a team, we are driven by a passion for excellence, continuous learning, and pushing boundaries. We foster a collaborative and innovative work environment where creativity thrives and ideas flourish. Our mission is to constantly stay abreast of emerging technologies, industry trends, and evolving customer behaviors to deliver forward-thinking solutions that give our clients a competitive edge.
Ultimately, our mission is to be a catalyst for the growth and success of our clients' businesses in the digital realm. We measure our achievements by the positive impact we create for our clients, helping them achieve their online goals, expand their reach, and enhance their brand influence.
With every project we undertake, we strive to uphold our mission of empowering businesses through exceptional web design and digital marketing services. Together, let's embark on a digital journey of success, growth, and transformation."
This mission statement reflects the core values and purpose of GraceSol Technologies, highlighting its commitment to delivering outstanding web design and digital marketing solutions to empower businesses in the online realm.
At GraceSol Technologies, our vision is to revolutionize the digital landscape by providing businesses with exceptional web design and digital marketing services. We believe in the power of a strong online presence to transform businesses, connect them with their target audiences, and drive sustainable growth.
We aspire to be the leading provider of innovative and impactful web design solutions. Our dedicated team of talented designers and developers are committed to crafting visually stunning and highly functional websites that not only capture the essence of our clients' brands but also engage and captivate their online visitors. We understand that a well-designed website is the digital face of a business, and we strive to create memorable experiences that leave a lasting impression.
In addition to our web design expertise, we are passionate about digital marketing. We aim to leverage the latest trends, technologies, and strategies to create comprehensive digital marketing campaigns that deliver measurable results. From search engine optimization (SEO) and social media marketing to pay-per-click (PPC) advertising and content marketing, we provide tailored solutions that help businesses increase their online visibility, generate quality leads, and maximize their return on investment.
Our vision extends beyond just creating websites and running marketing campaigns. We aim to empower businesses by equipping them with the tools, knowledge, and strategies they need to thrive in the digital world. Through personalized consultations, strategic planning, and continuous support, we become trusted partners for our clients, guiding them on their digital journey and helping them stay ahead of the competition.
We envision a future where every business, regardless of its size or industry, can leverage the power of the internet to achieve remarkable success. By collaborating with GraceSol Technologies, businesses can unlock their full potential, establish their brand authority, and expand their reach in the online marketplace.
Together, let's shape a digital landscape where businesses thrive, customers are engaged, and remarkable achievements are realized. At GraceSol Technologies, we are committed to creating powerful websites, implementing effective digital marketing strategies, and making a positive impact on the online success of our clients."
We hope this expanded vision statement captures the essence of GraceSol Technologies' goals and aspirations.
At GraceSol Technologies, we are committed to delivering exceptional digital marketing, web development, web design, social media marketing, graphic design, web hosting, and Google Ads services. Our Values page reflects the principles that guide our operations and shape our interactions with clients and partners.
Client-Centric Approach: At GraceSol Technologies, our clients are at the forefront of everything we do. We prioritize understanding their unique needs, goals, and challenges. By fostering strong client relationships, we can provide tailored solutions and exceed expectations. We believe in open communication, transparency, and responsiveness, ensuring our clients' satisfaction throughout their journey with us.

Innovation and Creativity: We thrive on innovation and believe in pushing boundaries to deliver cutting-edge solutions. Our team of skilled professionals stays abreast of the latest industry trends and technological advancements. We approach each project with creativity, applying fresh ideas to design unique and engaging digital experiences for our clients.

Quality and Excellence: Quality is at the core of our services. We strive for excellence in everything we do, from web development and design to digital marketing strategies. Our team adheres to industry best practices, follows stringent quality assurance processes, and continuously seeks improvement to deliver high-quality outcomes. We take pride in our attention to detail and our commitment to delivering results that surpass expectations.

Collaboration and Teamwork: At GraceSol Technologies, we believe in the power of collaboration. We foster a culture of teamwork, where our diverse talents and expertise come together to achieve remarkable results. We value open communication, respect each other's contributions, and embrace collective problem-solving. By working together, we can leverage our strengths and deliver comprehensive solutions.

Ethical Practices: Integrity and ethics are the pillars of our business. We conduct our operations with honesty, transparency, and fairness. We prioritize ethical practices in all aspects of our work, from data privacy and security to advertising standards. Our commitment to ethical conduct ensures that we build trust with our clients, partners, and stakeholders.

Continuous Learning and Growth: In the rapidly evolving digital landscape, we recognize the importance of continuous learning. Our team actively seeks knowledge, attends industry conferences, and engages in professional development opportunities to stay ahead of the curve. By fostering a culture of learning and growth, we can provide innovative solutions that drive success for our clients.
At GraceSol Technologies, these values are the foundation of our company culture and define our approach to serving our clients. We are dedicated to delivering exceptional services, fostering strong relationships, and helping businesses thrive in the digital realm. Partner with us to unlock your online potential and achieve your goals.
Graphic Designing Services