Reseller Web Hosting
With Business Reseller, WHM Reseller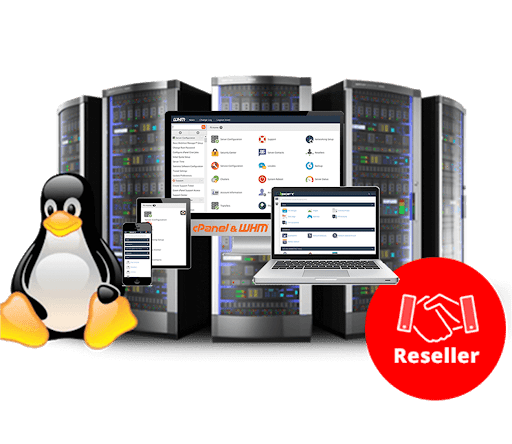 Reseller Web Hosting is for webdesigning professionals, software developers or for those who are looking to start their career in web hosting business. Each reseller account is set up with the highest standards on Genuine Intel Servers. With Business Reseller, WHM Reseller, and Master Reseller accounts you get more real disk space than ANY comparable vps. With our 24/7 Support you need not to think about the server maintenence or monitoring of a VPS or dedicated server. Let us take care of that so you can focus on your business.
Reseller Hosting Accounts come with many features including site builder by GraceSol. With Private NameServers we will remain completely anonymous to your clients and you will be able to provide the services as a professional service provider! Not only that but as a reseller host with GraceSol, if you wish, your end user clients can also get the invaluable after sales support from us indirectly. So, you just focus on selling hosting packages and making profits! If you need customized reseller hosting packages, we are just a call away, we will be glad to assist you further!
Domain and Hosting Services
Reliable Domain and Hosting Solutions for Your Online Presence
GraceSol offers comprehensive domain and hosting services that provide a solid foundation for your online presence. Whether you're starting a new website or looking to migrate an existing one, our reliable and secure hosting solutions, combined with domain registration services, ensure that your website is accessible to your audience around the clock.
Domain Registration and Management
Choosing the right domain name is crucial for establishing your online brand identity. At GraceSol, we assist you in finding the perfect domain name that aligns with your business and is memorable to your target audience. Our domain registration services include domain name search, registration, DNS management, and domain renewal, ensuring that your domain remains secure and up-to-date.
Secure and Scalable Hosting Solutions
Our hosting solutions are designed to provide a secure and reliable environment for your website. We offer a range of hosting options, including shared hosting, virtual private servers (VPS), and dedicated servers, allowing you to choose the solution that best suits your needs and budget. With state-of-the-art infrastructure, advanced security measures, and 24/7 monitoring, we ensure the stability and performance of your website.
Website Migration and Setup
If you have an existing website hosted elsewhere, our team can assist you with seamless website migration to our hosting platform. We handle the technical aspects of the migration process, ensuring minimal downtime and preserving the integrity of your website. Additionally, we provide assistance with website setup, CMS installation, and configuration, making it easy for you to get your website up and running quickly.
Robust Security Measures
Protecting your website and sensitive data is our priority. We implement robust security measures, including firewalls, SSL certificates, malware scanning, and regular backups, to safeguard your website from potential threats. Our proactive approach to security ensures that your website remains safe and secure, providing peace of mind for you and your visitors.
Technical Support and Maintenance
At GraceSol, we believe in providing exceptional customer support. Our knowledgeable technical support team is available round the clock to assist you with any hosting-related queries or issues you may encounter. We also offer ongoing maintenance services, including software updates, performance optimization, and regular backups, to ensure the smooth operation of your website.
Partner with a Trusted Domain and Hosting Provider
Choosing GraceSol as your domain and hosting service provider means partnering with a trusted company that prioritizes reliability, security, and exceptional customer support. We take pride in delivering hosting solutions that meet the unique needs of businesses, enabling them to establish a strong online presence. Let us handle your domain and hosting requirements so that you can focus on growing your business with confidence.
Reseller Hosting Services by GraceSol Technologies
As a leading provider of comprehensive digital solutions, GraceSol Technologies offers Reseller Hosting services that enable you to start your own web hosting business or expand your existing hosting offerings. With our reliable and feature-rich Reseller Hosting plans, you can provide hosting services to your clients while leveraging our infrastructure, support, and expertise.
Powerful Reseller Hosting for Your Business
Scalable Hosting Infrastructure: Our Reseller Hosting plans are built on robust and scalable infrastructure, ensuring high performance and reliability for both you and your clients. You can easily allocate resources, such as disk space, bandwidth, and email accounts, to meet the specific needs of your clients as their businesses grow.

White-Label Hosting: With our Reseller Hosting services, you can brand and customize the hosting experience for your clients. We provide a white-label solution, allowing you to use your own branding, logo, and company information. This way, you can maintain a consistent brand identity and provide a seamless hosting experience under your own brand.

Hosting Management Control Panel: We offer a user-friendly and intuitive control panel that allows you to manage your hosting accounts efficiently. From creating and managing client accounts to managing resources and providing technical support, our control panel provides all the tools you need to effectively run your reseller hosting business.

Reliability and Security: Our Reseller Hosting services are backed by robust security measures and advanced monitoring systems. We ensure that your clients' websites are protected against malware, viruses, and unauthorized access. With regular backups and 24/7 server monitoring, you can trust that your clients' data is safe and their websites are always accessible.

Technical Support: As a reseller hosting client, you can rely on our experienced support team for technical assistance. Our knowledgeable experts are available round the clock to help you with any hosting-related issues or questions. We provide prompt and reliable support, ensuring a smooth hosting experience for both you and your clients.

Flexible Plans and Pricing: We offer flexible Reseller Hosting plans that allow you to customize the services and pricing for your clients. You have the freedom to set your own pricing structure, packages, and features based on your business strategy and target market. This flexibility enables you to adapt to the evolving needs of your clients and maximize your profitability.
At GraceSol Technologies, we understand the importance of reliable and feature-rich Reseller Hosting services for your business growth. With our Reseller Hosting solutions, you can confidently offer hosting services to your clients while focusing on your core business objectives.