PROFESSIONAL LOGO DESIGN SERVICES
WE DESIGN VISUALLY COMPELLING LOGOS WITH A GREAT CONCEPT BEHIND IT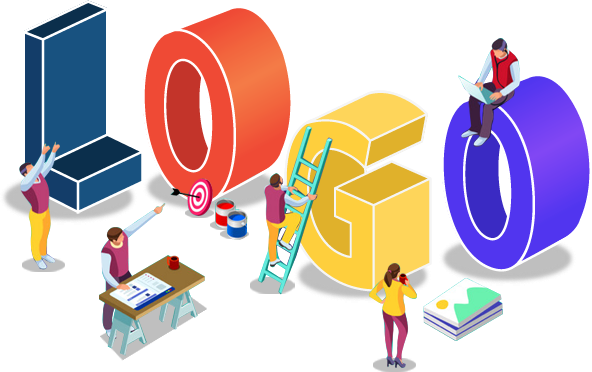 Your Logo is the face of your Brand. Every business gets one chance to make the right first impression. A great logo is so much more than a graphical element taking up space on your letterhead or business card. When artfully conceived and properly executed, they capture your unique story as words alone can't making a powerful statement that you really mean business. Moreover, our clients can successfully attain this urge by availing our following services:
Increase visibility
Business logo design
Corporate logo design
Flyer designs
Logo development
Business card designs
Website designs
Magazine designs
Brochure designs
Company logo design
Custom logo design
Graphic Designing Comapny
Graphic Design Solutions for Visual Excellence
GraceSol is a renowned graphic design company that specializes in delivering exceptional design solutions for businesses across various industries. With a team of highly skilled designers and a passion for creativity, we bring ideas to life and create visually captivating designs that leave a lasting impression.
Customized Graphic Design Services
At GraceSol, we understand that every business is unique, and their design needs differ. That's why we offer a wide range of customized graphic design services to cater to your specific requirements. Whether you need a logo design, branding materials, marketing collateral, or website graphics, our team of designers collaborates closely with you to ensure that the designs align with your brand identity and resonate with your target audience.
Logo Design and Branding
Your logo is the face of your business, and our logo design services are aimed at creating a distinctive and memorable identity for your brand. We take into consideration your brand values, industry, and target market to design logos that reflect your unique identity. In addition to logo design, we also offer comprehensive branding services, including brand guidelines, color palettes, typography, and visual assets that create a consistent and professional brand presence across all platforms.
Print Design and Marketing Collateral
Print design remains a powerful tool for marketing and communication. Our print design services encompass a wide range of materials, including brochures, flyers, business cards, posters, banners, and packaging designs. We combine creativity with a deep understanding of your target audience to create visually appealing designs that effectively convey your message and leave a lasting impression.
Web Graphics and User Interface Design
In the digital age, visually appealing websites and user interfaces are essential for engaging users and creating a seamless user experience. Our team of designers specializes in creating web graphics and user interface designs that are not only aesthetically pleasing but also user-friendly and intuitive. We ensure that your website or application stands out with visually stunning graphics and cohesive design elements that enhance usability and engagement.
Infographics and Illustrations
Complex information can be effectively communicated through visually engaging infographics. Our designers have expertise in creating informative and visually compelling infographics that simplify complex data and concepts, making them easily understandable and memorable. Additionally, we offer illustration services, including custom illustrations and graphics that add a unique touch to your marketing materials and storytelling.
Creative Consultation and Collaboration
At GraceSol, we believe in a collaborative approach. Our designers work closely with you to understand your vision, goals, and preferences. We provide creative consultation and guidance throughout the design process, ensuring that the final designs not only meet but exceed your expectations. Your feedback and input are integral to our design process, and we value your involvement every step of the way.
Partner with the Leading Graphic Design Company
Choosing GraceSol as your graphic design company means partnering with a team of passionate designers who are dedicated to delivering exceptional designs that elevate your brand presence. We combine creativity, technical expertise, and a deep understanding of design principles to create visually stunning and impactful designs. Let us be your creative partner in bringing your ideas to life and captivating your audience through the power of design.
Logo Design Services GraceSol Technologies
Your logo is the face of your brand, the visual representation that communicates your identity and values to your target audience. At GraceSol Technologies, we offer professional Logo Design Services to help businesses establish a strong and memorable brand presence.
Crafting Unique and Impactful Logos
Understanding Your Brand: Our logo design process begins with a thorough understanding of your brand, its values, and its target audience. We collaborate closely with you to gather insights and ideas, ensuring that the logo we create aligns with your brand's essence and resonates with your target market.

Creative Concept Development: Our team of talented designers employs their expertise and creativity to develop unique logo concepts tailored to your brand. We explore various design elements, typography, color palettes, and visual styles to capture the essence of your brand identity and evoke the desired emotions.

Customization and Refinement: We value your feedback and input throughout the logo design process. We work collaboratively, refining and customizing the logo concepts based on your preferences and requirements. Our goal is to create a logo that reflects your vision and captures the attention of your audience.

Versatility and Scalability: A well-designed logo should be versatile and scalable, ensuring its visual impact across different platforms and sizes. Whether it's displayed on your website, social media profiles, business cards, or billboards, our logos are crafted to maintain clarity and visual appeal in any context.

Timeless and Memorable Design: We aim to create logos that stand the test of time, avoiding design trends that may quickly become outdated. Our focus is on crafting timeless and memorable designs that have a lasting impact, allowing your brand to establish a strong presence in the competitive market.

Brand Consistency: A cohesive brand identity is crucial for establishing brand recognition and credibility. Our logo design services align with your overall brand guidelines, ensuring consistency across all your marketing materials and touchpoints. We provide you with logo files in various formats, allowing for seamless integration into your digital and print collateral.
At GraceSol Technologies, we understand the power of a well-designed logo in capturing the essence of your brand and making a lasting impression. Trust our team of skilled designers to create a logo that embodies your brand's values, resonates with your audience, and sets you apart from the competition.