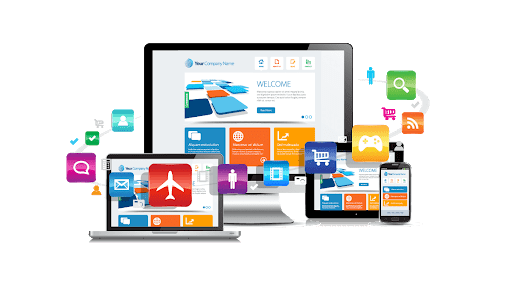 GraceSol provides more than website design and development. Your business, web presence and brand identity will be taken to the next level. GraceSol will produce a custom website design that will maintain the professional image that you've worked hard to build. GraceSol is a leading provider of web site design and development solutions.
We work with our clients to create customized e-commerce solutions to meet business requirements. GraceSol has the knowledge, resources, and experience to produce a successful e-commerce solution for your business. Our expert website designers has helped businesses worldwide in launching a successful ecommerce website designs.
No matter what stage your organisation is in, we'll build a custom-fit WordPress website that's well-suited, professional, SEO-optimized, and incredibly beautiful. Our packages range from entry-level to sophisticated and premium ones. GraceSol is a close-knit team of web designers, SEO experts, and WordPress web developers with a focus on developing attractive, profitable websites if you're seeking for a web design and development firm that is results-driven. Our web design company develops websites that offer flawless, seamless, and friendly user experiences for all of our customers, whether they are small business owners, corporate enterprises, or high traffic e-commerce websites. We do this by utilising the most recent technology and our own website research methodologies. Request a free estimate or look at the pricing details of our custom website development services if you need a professional website that meets your business needs. You may work with a staff dedicated to your company's growth and a high-quality online presence by selecting  web design company like GraceSol.
Using our distinctive collaborative design method, which enables you to share your views and create a new website tailored to your new business or startup needs, we take every precaution to assure customer happiness.We can think outside the box and create original graphic designs and templates for your company website thanks to our distinctive approach to WordPress website design and Content Management systems. Keen To Design, a website design company, will make sure you get the best of both worlds because stunning websites must also maintain excellent functionality. You'll be astounded by GraceSol's superior quality and competitive pricing. The digital business provides design packages for every price range that result in a stunning, uniquely personalised, and top-notch website design that is prepared for social media marketing, lead generation, and high conversion. Our web development team specialises in producing and designing websites that look fantastic and turn visitors into customers. Our expertise enables us to tailor the structure of your website to satisfy your particular needs, whether you run a blog, an online store, or another type of online business. Our design and development expertise is in WordPress and e-commerce, but we're also pleased to work with custom content management systems. However, putting together a fantastic website necessitates a web design team with a wide range of knowledge and abilities. Behind every successful launch is a team of programmers, top web designers, project managers, and digital marketing gurus who are all working toward the same objective: building a strong online presence.
Top Web Designing Company 
Empower Your Online Success with GraceSol: The Top Web Designing Company
Experience unparalleled online success with GraceSol, a renowned web designing company that is known for its exceptional services. Our team of experts specializes in delivering custom web development solutions that embody your unique brand identity and drive your business objectives forward. With captivating designs and seamless functionality, we create websites that leave a lasting impact on your target audience. With our extensive industry knowledge, cutting-edge technologies, and client-centric approach, we are committed to surpassing your expectations.
Enhanced User Experience and SEO: Amplify Your Online Visibility
In today's ever-evolving digital landscape, having a website that engages users across all devices is crucial. At GraceSol, we prioritize responsive design, ensuring that your website not only looks stunning but also functions flawlessly on desktops, laptops, tablets, and mobile devices. Our skilled developers leverage advanced techniques and technologies to create responsive designs that seamlessly adapt to various screen sizes, providing an exceptional user experience. Additionally, we integrate SEO best practices from the ground up, optimizing your website to enhance online visibility and drive organic traffic.
Security and Reliability: Safeguard Your Online Presence
We understand the paramount importance of security and reliability in today's digital world. At GraceSol, we implement robust security measures and adhere to industry best practices to fortify your website and protect your valuable data from potential threats. Our dedicated team conducts rigorous testing and quality assurance procedures to ensure that your website operates smoothly and provides a secure environment for your visitors. With our unwavering commitment to security and reliability, you can trust us to safeguard your online presence while you focus on growing your business.
Professional Web Design Services by GraceSol Technologies
At GraceSol Technologies, we offer professional web design services that blend creativity, functionality, and user experience to create stunning websites that captivate visitors and drive results.
Captivate Your Audience with Custom Web Design
Custom Website Design: Our web design services are tailored to your unique business requirements. We collaborate closely with you to understand your brand identity, target audience, and specific goals, allowing us to create a custom website design that aligns with your vision and effectively communicates your message.

Responsive and Mobile-Friendly Design: With the increasing use of mobile devices, it's essential to have a website that adapts seamlessly to different screen sizes. Our web designs are responsive and optimized for mobile devices, ensuring a consistent and engaging user experience across all platforms.

Intuitive User Experience: User experience plays a vital role in determining the success of your website. We focus on creating intuitive navigation, clear calls-to-action, and an overall user-friendly interface to enhance usability and guide visitors towards their desired actions.

Visual Appeal and Branding: Our web design team combines artistic creativity with a deep understanding of branding. We create visually stunning designs that capture the essence of your brand, incorporating your colors, fonts, and visual elements to create a cohesive and memorable online presence.

SEO-Friendly Design: A well-designed website goes hand in hand with search engine optimization (SEO). We optimize the structure, content, and coding of your website to ensure it is search engine friendly, helping you rank higher in search results and attract organic traffic.

Integration of Multimedia Elements: To enhance user engagement and make a lasting impression, we seamlessly integrate multimedia elements such as images, videos, and interactive features into your web design. This brings your content to life and creates a dynamic and immersive user experience.

Ongoing Support and Maintenance: We believe in building long-term partnerships with our clients. Beyond the initial design phase, we offer ongoing support and maintenance services to keep your website running smoothly and up to date. From regular updates to security monitoring, we ensure your website remains secure, functional, and optimized.
At GraceSol Technologies, we combine our expertise in web design, user experience, and digital marketing to create websites that not only look visually appealing but also drive business growth. Our team of talented designers and developers are passionate about crafting unique and impactful web designs that resonate with your target audience.