Web Designing Services in London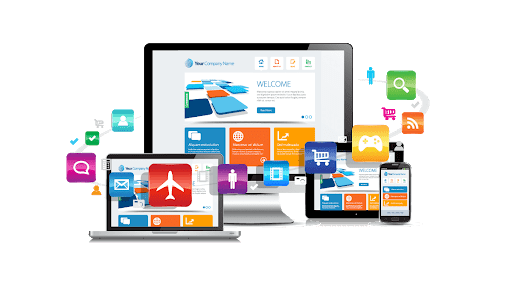 As a distinguished provider of web designing services in London, GraceSol Technologies transcends conventional website design and development. Our expertise extends to the augmentation of your business, online prominence, and brand essence to unprecedented altitudes. Our unwavering team is poised to orchestrate a bespoke website design that impeccably mirrors the professional image you've meticulously nurtured. GraceSol Technologies stands as a vanguard in furnishing unparalleled web design and development solutions.
In harmonious collaboration with our valued clients, we intricately fashion e-commerce solutions tailored to your unique business requisites. Armed with extensive expertise, abundant resources, and an expansive wealth of experience, GraceSol Technologies possesses the prowess to unfurl a flourishing e-commerce panorama for your enterprise. Our brigade of adept website designers has consistently guided businesses worldwide towards the successful launch of exceedingly efficient and visually captivating e-commerce platforms.
GraceSol Technologies: Your Premier Web Design Destination
GraceSol Technologies, a distinguished web design agency in the UK, is resolutely committed to erecting bespoke WordPress websites that exude professionalism, SEO optimization, and captivating aesthetics, irrespective of your organizational phase. Our assortment of packages spans from introductory levels to intricate premium choices. Steered by a results-centric ethos, GraceSol harnesses a potent coalition of adept web designers, SEO virtuosos, and seasoned WordPress developers to engender alluring and lucrative online domains.
Elevating User Experiences with a Singular Focus
Be it proprietors of small-scale enterprises, corporate behemoths, or bustling e-commerce platforms, we accord paramount importance to delivering impeccable user experiences for all our clientele. Our modus operandi seamlessly integrates the latest technological marvels and our exclusive website research paradigms, thereby guaranteeing interactions that are both seamless and user-centric. If your pursuit is a professionally crafted website that impeccably resonates with your business requisites, you're welcome to solicit a complimentary estimate or delve into the intricacies of our bespoke website development services. By opting for GraceSol, you acquire the privilege of engaging a dedicated squad ardently dedicated to fostering your company's expansion and paving the way for a premium-grade online footprint.
Innovative Collaborative Design for Your Distinct Vision
Our innovative collaborative design methodology bestows upon you the platform to articulate your vision, thus allowing us to conjure a meticulously tailored website aligned with the precise stipulations of your nascent enterprise or startup. Through our distinct artistic approach to WordPress website design and Content Management Systems, we are poised to transcend conventions, giving birth to original graphic masterpieces and templates for your corporate domain. Keen To Design, a vanguard website design establishment, orchestrates a seamless equilibrium between mesmerizing visuals and superlative functionality. The GraceSol encounter promises to astonish, seamlessly amalgamating unparalleled quality with competitive pricing. Our design assortments cater to every fiscal spectrum, culminating in breathtaking, individually personalized, and top-tier websites primed for social media marketing, lead generation, and astronomical conversion rates. Our squad of web development virtuosos specializes in conjuring websites that transcend the boundaries of mere aesthetics, seamlessly morphing visitors into steadfast patrons. Whether you preside over a blog, an online emporium, or any virtual commercial venture, our adeptitude in WordPress and e-commerce allows us to meticulously mold the architecture of your website to concur with your precise prerequisites. While our prowess is undeniably manifest in WordPress and e-commerce domains, we are equally adroit in navigating custom content management systems with finesse.
Web Designing Company London
Professional Web Design Services in UK by GraceSol Technologies
Elevate Your Online Presence with GraceSol Technologies
GraceSol Technologies, renowned as a premier web design company, specializes in delivering professional web design services that seamlessly fuse innovation, functionality, and user-centric experiences. Our core mission revolves around forging captivating websites that allure visitors while yielding tangible, business-enhancing outcomes.
Embrace Custom-Tailored Web Design
Our suite of web design services is intricately tailored to harmonize with your distinct business requisites. Through a symbiotic partnership, we delve deep into comprehending your brand ethos, intended audience, and aspirations, thereby facilitating the creation of a bespoke website design that efficaciously communicates your narrative and aligns seamlessly with your vision.
Responsive Designs for Multifaceted Devices
In an era where mobile devices proliferate, the versatility of seamless adaptation across various screen dimensions is paramount. Our web designs are inherently responsive, optimized for diverse devices, thereby guaranteeing a harmonious and immersive user journey, irrespective of the platform.
User-Centric Navigability and Engagement
Acknowledging the pivotal role that user experience plays in a website's triumph, our emphasis lies in crafting intuitive navigation pathways, lucid calls-to-action, and a user-friendly interface. This concerted effort augments usability, effectively guiding visitors towards their desired interactions.
Aesthetic Charm and Brand Identity
Our web design artisans marry artistic ingenuity with an acute comprehension of branding dynamics. The result is an array of visually arresting designs that encapsulate the very essence of your brand. Infusing your signature hues, fonts, and visual elements, we sculpt an interconnected and unforgettable online identity.
Harmonizing Design with SEO Efficacy
A well-executed website design is intrinsically intertwined with potent search engine optimization (SEO). Our optimization endeavors span the gamut of structure, content, and coding, ensuring your website resonates with search engine algorithms. This synergy aids in securing elevated rankings within search results and attracting organic traffic.
Integration of Multisensory Elements
To heighten user engagement and etch an indelible impression, we seamlessly weave multimedia elements like images, videos, and interactive features into your web design tapestry. This vivifies your content, bestowing upon it a dynamic and immersive quality.
Sustained Support and Maintenance
Our commitment transcends the design's embryonic phase. Beyond the initial conceptualization, we offer ongoing support and maintenance, seamlessly weaving regular updates and security vigilance into the fabric of our service. This endeavor ensures your website operates smoothly, remains fortified against vulnerabilities, and remains primed for optimal performance.
GraceSol Technologies: Where Vision and Expertise Converge
At GraceSol Technologies, we leverage our profound mastery of web design, user experience, and digital marketing to sculpt websites that do more than simply captivate the eye – they propel business growth. Our congregation of adept designers and developers is fervently dedicated to curating distinct and resonant web designs that intimately connect with your intended audience.