Brand Identity Services
Top Agency for Logo & Brand Identity Services : Establish Your Brand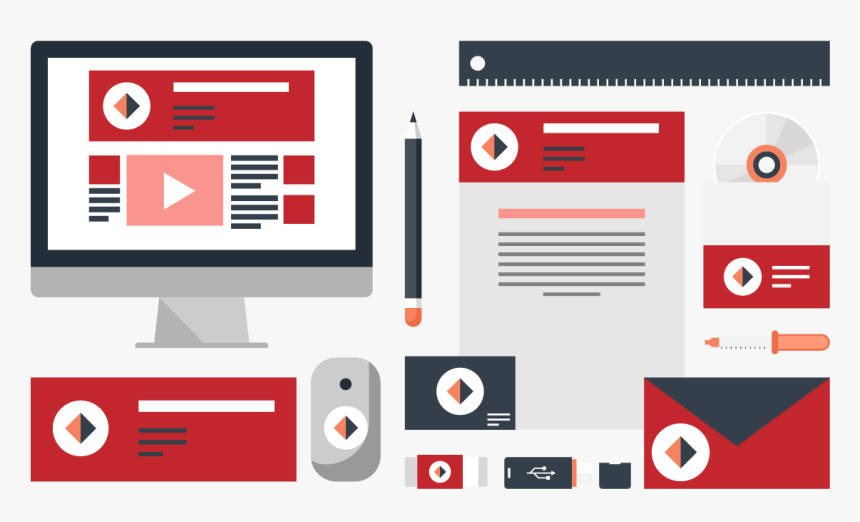 Our agency for logo & brand identity services is known for its premium Brand Identity services. Precisely checking the professional elements like ratio, proportion, symmetry, color, denotation, fonts, highlighting, etc., we believe that these form the basis of a good logo design. The top-notch expertise possessed by our logo design company thoughtfully inculcates customization in the design, which is highly thought-about. We design professional logos, not just drawings. Our end goal is to create a lasting impression in the minds of the viewer. Considering all these components parallelly while designing and creating a brand identity, we envision the life long usage of the logo. Other brand identity elements like visiting cards, letterheads, & envelop are also designed based upon the logo. Before coming to a final design, our agency's team which specializes in logo & brand identity services follows a comprehensive process.
Consumers today are connected to more brand messaging than they know what to do with. The constant quest of successful companies is to stand out in a crowded industry and create instant brand recognition. Words can get you only so far in conveying your one-of-a-kind persona. The human brain processes imagery about 60,000 times faster than text. This is why you need a visual brand identity that not only pops, but creates a powerful impression that sticks in people's minds. Our visionaries behind the scenes at GraceSol have been bridging the gap between outside-the-box creativity and graphic design since day one. Regardless of the size, scope, medium, or desired level of flair, we deliver prolific solutions:
Logo Design
Brochure Design
Stationery Design
Envelopes
Business cards
Letterheads
Flyer layouts
Bill stuffers
Menus
Print graphics
Digital designs
E-book layouts
Product catalogs
Vehicle graphics
We firmly believe that the best creative work comes from a deep understanding of the client's business, mission, values, and particular position in the market. We will not start designing until we understand each of these elements down to the most miniscule detail.
The Well-established companies would have their branding strategies and knew how to prioritize it. Take any leading brands and inspect their qualities; they all would have unique designs and brand architecture. If you are here to be a well-known brand in the country or to get immense growth, you are in the right place. Our talents will think from your perspective and deliver it with better design and new strategies. A typical company will become a brand when it goes by its strategy as the old success formula would never coincide with requirements. The brand should be above the level of excellence for others to be preferred without any identity confusion. Be it a product based business or service; we offer a complete branding service without flaws at the reach. A perfect brand awareness strategy encompasses digital awareness. GraceSol's team is efficient and effective to take you to the next level. We are proud to acknowledge that GraceSol is one of the best Corporate Branding Services providers.
Build a Strong Brand Identity by GraceSol Technologies
Welcome to GraceSol Technologies, where we help businesses like yours build a strong brand identity. In today's competitive digital landscape, establishing a unique and impactful brand presence is crucial for success. We offer a comprehensive range of services, including digital marketing, web development, web design, social media marketing, graphic design, web hosting, and Google Ads, to assist you in crafting and strengthening your brand identity.
At GraceSol Technologies, we understand that your brand is more than just a logo or a website. It encompasses your values, mission, and the overall perception that your audience has of your business. Our experienced team of professionals will work closely with you to develop a brand identity that resonates with your target audience and sets you apart from the competition.
Through strategic digital marketing campaigns, we will help you create brand awareness and connect with your target market. Our talented web development and design team will craft a visually stunning and user-friendly website that reflects your brand's personality and engages your visitors. We also offer social media marketing services to leverage the power of social platforms for brand promotion and audience engagement.
Additionally, our graphic design services will ensure consistent branding across all marketing materials, including logos, brochures, and advertisements. We provide reliable web hosting solutions to ensure your website is fast, secure, and accessible at all times. And with our Google Ads expertise, we can optimize your online advertising campaigns to drive targeted traffic and increase conversions.
Building a strong brand identity is a continuous process, and we are here to support you every step of the way. Let us help you create a brand that resonates with your audience, inspires trust, and drives business growth.