Custom ERP & CRM Development, Desktop Software Development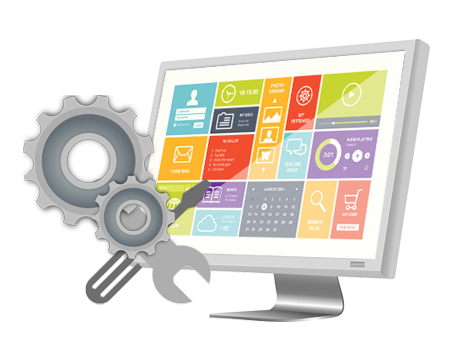 Build greater customer relations through a CRM software development company that is based. GraceSol Technologies provides excellent ERP and CRM Development Services that can help you create excellent customer journeys and structure the organizational processes well. We offer great ERP solutions for all your organizational needs, track all the necessary metrics of your employee performance, track their progress and integrate every necessary data for the performance reviews.
Our solutions provide excellent custom CRM development services to maintain greater customer relations and track every interaction between your business and the customer for better customer relations.
An international software development company with a focus on cutting-edge technology, GraceSol . To put together a group of skilled programmers who can assist them in achieving their objective, we work closely with our clients. We've had eight years to build up a strong reputation and substantial expertise in this area. We take pride in making sure that our clients have access to the most up-to-date technical breakthroughs by providing highly effective solutions and staying current on the latest trends. Your firm will have the chance to work with some of the most experienced industry experts, whose creative software and application development skills may propel your organisation to the next level of success, should you choose to associate with GraceSol as your business partner. We take care of your on-demand staffing requirements so you may only use IT knowledge as needed. Find out more about the superior software development services we offer. We pay attention to your needs, financial limitations, and overall goals. No matter how big or small, we find teams to meet your tech needs. We are experts in Agile Software Development. We serve clients all over the world. We actively use SAFe Agile, Dynamic Systems Development Methodology, and Crystal, among other Agile Methodologies. The flavour we employ for each customer varies depending on a variety of factors, including the intricacy of the requirements, the project's and the client's needs, as well as the physical working environment. Together, we and our client develop a working method that is appropriate for the project and the client's requirements. Agile gives software developers the flexibility to swiftly modify the course of a project or feature and to react to market forces in real time.
Professional Software Development Service Provider 
GraceSol is a leading provider of professional software development services. We are a full-service business dedicated to designing stunning and flexible digital experiences that seamlessly function across various platforms, including desktop screens, laptops, and tablets. Our passion for what we do drives us to create highly effective and user-friendly websites that help make your brand recognizable in every aspect of your organization.
Reliable Web Design Services for Time-Constrained Businesses
Maintaining websites and aligning them with evolving marketing strategies can be challenging for businesses without internal web developers. At GraceSol, we offer web design services to alleviate the burden for time-constrained business owners and marketing managers. While you focus on running your business, we take care of your website, ensuring it remains up-to-date and in line with your goals and objectives.
Exceptional Web Development Solutions
Our web development team at GraceSol is committed to delivering more than just a visually impressive first impression. We prioritize the usefulness, accessibility, and aesthetic appeal of your website to provide a comprehensive web design experience. As a full-service web design company, we offer professional web design and development services at competitive pricing. With extensive experience across various industries such as healthcare, retail, FMCG, education, government, and not-for-profit, our goal-oriented team members are experts in web accessibility, Drupal and WordPress development and support. We ensure that your website not only looks appealing but also enables all users to seamlessly interact with your products and services.
Partner with GraceSol for Professional Software Development
When you choose GraceSol as your software development partner, you gain a trusted ally dedicated to your success. Our team of professionals excels in creating engaging websites that cater to businesses of all sizes. We combine our expertise in web design, development, and industry knowledge to deliver tailored solutions that meet your specific needs.
Experience the Difference with GraceSol
At GraceSol, we believe in delivering excellence in every project we undertake. Our commitment to professional software development, competitive pricing, and customer satisfaction sets us apart as a reliable partner for your web design and development needs.
Custom Software Development Services by GraceSol Technologies
In today's rapidly evolving digital landscape, having custom software solutions tailored to your specific business needs is crucial for achieving efficiency, productivity, and a competitive edge. At GraceSol Technologies, we offer comprehensive custom software development services to help businesses transform their ideas into robust, scalable, and user-friendly software applications.
Custom Software Solutions Designed for Your Success
Analysis and Consultation: Our software development process begins with a thorough analysis of your business requirements and objectives. We work closely with you to understand your unique challenges and goals, enabling us to provide tailored software solutions that address your specific needs.

Custom Application Development: Our skilled software developers have expertise in a wide range of programming languages and technologies. Whether you need a web-based application, mobile app, or desktop software, we have the capabilities to deliver customized solutions that align with your business processes and enhance your operations.

User Experience Design: We believe that great software goes beyond functionality – it should also provide a seamless user experience. Our UX/UI designers collaborate with our developers to create intuitive and visually appealing interfaces that optimize user engagement and satisfaction.

Integration and Migration: If you have existing systems or databases that need to be integrated with your new software, we can seamlessly integrate them to ensure a smooth workflow. Additionally, if you require migrating your data from legacy systems to the new software, we provide efficient and secure data migration services.

Quality Assurance and Testing: We adhere to industry best practices for quality assurance and testing to ensure that your software is robust, secure, and reliable. Our dedicated QA team conducts rigorous testing throughout the development lifecycle, identifying and resolving any issues to deliver a high-quality end product.

Ongoing Support and Maintenance: Our commitment to your success extends beyond the development phase. We provide comprehensive support and maintenance services to keep your software up-to-date, secure, and performing optimally. Whether it's resolving technical issues, implementing updates, or providing user training, we are here to support you.

Scalable Solutions: We design and develop software solutions with scalability in mind. As your business grows and evolves, your software should be able to accommodate increased demands. Our scalable solutions enable seamless expansion and adaptability to meet your changing requirements.
At GraceSol Technologies, we combine technical expertise, industry experience, and a customer-centric approach to deliver custom software solutions that empower your business. Our team of software development professionals is committed to excellence and dedicated to helping you achieve your business goals through innovative and reliable software solutions.