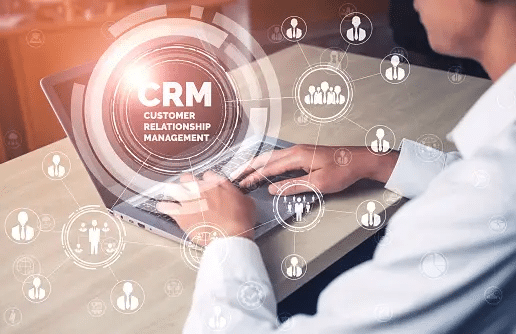 Build greater customer relations through a CRM software development company that is based. GraceSol Technologies provides excellent ERP and CRM Development Services that can help you create excellent customer journeys and structure the organizational processes well. We offer great ERP solutions for all your organizational needs, track all the necessary metrics of your employee performance, track their progress and integrate every necessary data for the performance reviews.
Our solutions provide excellent custom CRM development services to maintain greater customer relations and track every interaction between your business and the customer for better customer relations.Our expert team combines technical expertise and industry knowledge to deliver tailored CRM solutions that enhance efficiency, improve customer satisfaction, and drive business growth.
Desktop Software Development
Empowering Online Success through Custom Desktop Software Development
Experience unprecedented online success with GraceSol Technologies, the leading agency specializing in custom desktop software development services. Our expert team is dedicated to harnessing the power of technology to deliver tailored solutions that align with your unique brand identity and drive your business objectives forward. From captivating designs to seamless functionality, we create desktop software applications that leave a lasting impact on your target audience. With our extensive industry knowledge, cutting-edge technologies, and client-centric approach.


Enhanced User Experience and SEO: Amplify Your Online Visibility
In the fast-paced digital landscape, it is crucial to have a desktop software application that engages users and performs flawlessly. At GraceSol Technologies, we prioritize user-centric design principles, ensuring that your desktop software not only looks visually appealing but also functions seamlessly across different operating systems. Our skilled developers leverage advanced techniques and technologies to create responsive designs that adapt to various screen sizes, providing an exceptional user experience. Additionally, we integrate SEO best practices from the ground up, optimizing your desktop software for enhanced online visibility and driving organic traffic to your business.
Security and Reliability: Safeguard Your Online Presence
We understand the paramount importance of security and reliability in today's digital world. At GraceSol Technologies, we implement robust security measures and adhere to industry best practices to fortify your desktop software and protect your valuable data from potential threats. Our dedicated team conducts rigorous testing and quality assurance procedures to ensure that your software operates smoothly and provides a secure environment for your users. With our unwavering commitment to security and reliability, you can trust us to safeguard your online presence while you focus on growing your business.
Custom CRM Development Services | GraceSol Technologies
In today's rapidly evolving digital landscape, having custom software solutions tailored to your specific business needs is crucial for achieving efficiency, productivity, and a competitive edge. At GraceSol Technologies, we offer comprehensive custom software development services to help businesses transform their ideas into robust, scalable, and user-friendly software applications.
Custom Software Solutions Designed for Your Success
Analysis and Consultation: Our software development process begins with a thorough analysis of your business requirements and objectives. We work closely with you to understand your unique challenges and goals, enabling us to provide tailored software solutions that address your specific needs.

Custom Application Development: Our skilled software developers have expertise in a wide range of programming languages and technologies. Whether you need a web-based application, mobile app, or desktop software, we have the capabilities to deliver customized solutions that align with your business processes and enhance your operations.

User Experience Design: We believe that great software goes beyond functionality – it should also provide a seamless user experience. Our UX/UI designers collaborate with our developers to create intuitive and visually appealing interfaces that optimize user engagement and satisfaction.

Integration and Migration: If you have existing systems or databases that need to be integrated with your new software, we can seamlessly integrate them to ensure a smooth workflow. Additionally, if you require migrating your data from legacy systems to the new software, we provide efficient and secure data migration services.

Quality Assurance and Testing: We adhere to industry best practices for quality assurance and testing to ensure that your software is robust, secure, and reliable. Our dedicated QA team conducts rigorous testing throughout the development lifecycle, identifying and resolving any issues to deliver a high-quality end product.

Ongoing Support and Maintenance: Our commitment to your success extends beyond the development phase. We provide comprehensive support and maintenance services to keep your software up-to-date, secure, and performing optimally. Whether it's resolving technical issues, implementing updates, or providing user training, we are here to support you.

Scalable Solutions: We design and develop software solutions with scalability in mind. As your business grows and evolves, your software should be able to accommodate increased demands. Our scalable solutions enable seamless expansion and adaptability to meet your changing requirements.
At GraceSol Technologies, we combine technical expertise, industry experience, and a customer-centric approach to deliver custom software solutions that empower your business. Our team of software development professionals is committed to excellence and dedicated to helping you achieve your business goals through innovative and reliable software solutions.
Professional Software Development Service Provider