A LEADING PHP DEVELOPMENT COMPANY
Providing Cutting-edge PHP Development Services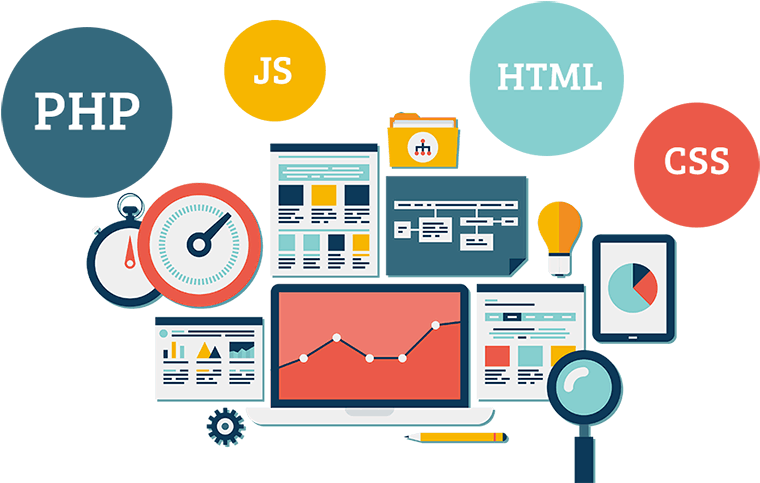 Using our comprehensive skills of OOP, MVC, and core PHP, we build and deliver static, dynamic, and integrated PHP web apps. Our PHP development company works with the most suitable PHP frameworks like CodeIgniter, CakePHP, Laravel, Zend, Yii, Symfony, etc to develop the enterprise apps. We are apt in using the right combination of technologies to build world-class eCommerce PHP websites that bear modern features and functionalities. Our PHP development company has the caliber to create highly customized eCommerce portals.At GraceSol, we understand that each business has unique requirements. Our PHP development services revolve around creating tailor-made solutions that align perfectly with your business objectives. Whether you need a custom CMS, e-commerce platform, or web application, our experienced developers leverage PHP's flexibility to build scalable, efficient, and secure solutions that meet your specific needs.
Top Web Development Agency
As a leading web development company, GraceSol stands out as a top provider in the industry. Our commitment to excellence and a team of dedicated experts set us apart as the go-to partner for exceptional website development solutions.
Unmatched Expertise in Web Development
When it comes to web development, we are the trusted experts delivering top-notch services. Our skilled team possesses extensive experience in crafting websites that not only meet but exceed expectations. We merge technical expertise with creative flair to build stunning websites that captivate your target audience and drive conversions.
Choosing the Best Web Development Company
By selecting GraceSol as your web development company, you're partnering with the best in the business. We have a proven track record of successful projects across various industries. Our commitment to innovation and staying ahead of technology ensures we provide cutting-edge solutions tailored to your unique business needs.
Cutting-edge Web Development Services
Our comprehensive suite of web development services covers every stage of your online journey. From concept and design to coding, testing, and deployment, our meticulous team handles each aspect of the development process. We follow industry best practices and leverage the latest tools and technologies to ensure your website excels in both aesthetics and functionality.
Unparalleled Expertise in Custom Web Development
We understand that your business requires a customized approach. Our expertise lies in delivering tailor-made web development solutions that align perfectly with your brand identity and objectives. By thoroughly understanding your business, we create websites that reflect your unique value proposition and leave a lasting impression on your visitors.
Delivering a Seamless User Experience
A great website goes beyond visual appeal; it must also provide an exceptional user experience. At GraceSol, we prioritize user-centric design principles to ensure your website is intuitive, easy to navigate, and optimized for various devices and screen sizes. By seamlessly blending aesthetics and functionality, we create websites that engage your visitors and increase conversion rates.
Experience the Difference with the Top Web Development Company
Choosing GraceSol as your web development partner means gaining access to unparalleled expertise, cutting-edge technologies, and a team dedicated to your success. We take pride in delivering websites that surpass your expectations, helping your business thrive in the digital landscape. 
PHP Development Services by GraceSol Technologies
As a leading provider of comprehensive digital solutions, GraceSol Technologies offers professional PHP Development Services to help businesses build robust and scalable web applications and websites. With our team of experienced PHP developers, we deliver custom solutions tailored to meet your specific requirements and industry standards.
Unlock the Power of PHP Development
Custom Web Development: Our PHP developers specialize in building custom web applications from scratch. We leverage the power and flexibility of PHP to develop tailored solutions that align with your business goals. Whether you need an e-commerce platform, a content management system, or a complex web portal, our team has the expertise to bring your vision to life.

CMS Development: Content management systems (CMS) simplify the process of managing and updating website content. We specialize in PHP-based CMS development, including popular platforms such as WordPress, Drupal, and Joomla. Our developers create user-friendly and scalable CMS solutions that allow you to efficiently manage your website's content and enhance its functionality.

Database-driven Solutions: PHP seamlessly integrates with various database systems, enabling the development of dynamic and database-driven web applications. Our PHP developers have expertise in working with databases like MySQL, PostgreSQL, and MongoDB, allowing us to build powerful applications that store and retrieve data efficiently.

API Integration: Integrate third-party services, tools, and APIs into your web applications seamlessly with our PHP development services. We have experience in integrating popular APIs, such as payment gateways, social media platforms, and cloud services, to enhance the functionality and user experience of your web applications.

E-commerce Development: If you're looking to establish an online store, our PHP developers can create a feature-rich and secure e-commerce platform. We develop customized e-commerce solutions with robust shopping cart functionality, secure payment gateways, inventory management, order tracking, and other essential features to ensure a seamless online shopping experience for your customers.

Ongoing Support and Maintenance: Our commitment to your success extends beyond the development phase. We provide ongoing support and maintenance services to ensure your PHP-based applications run smoothly and remain up-to-date with the latest technologies and security measures. Our team is readily available to address any issues, implement updates, and provide technical assistance when needed.
At GraceSol Technologies, we combine our technical expertise, industry knowledge, and innovative approach to deliver PHP development solutions that drive business growth. Trust us to create powerful and scalable web applications that meet your unique requirements and exceed your expectations.