Web Hosting Services
SIMPLE, FAST & RELIABLE WEB HOSTING SOLUTIONS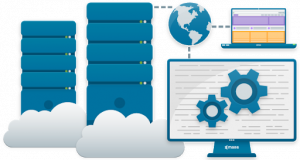 GraceSol Web Hosting is a reliable hosting solution provider with a decade of experience. Our solutions help businesses of all sizes and provides a smooth hosting setup. Elevate your web apps while we'll manage your cloud infrastructure. With our managed GraceSol hosting services, you can scale your web apps with complete peace of mind. Ensure maximum efficiency and convenience with our managed WordPress hosting service while you focus on your business to grow. The company understands the importance of website availability and ensures that its servers are well-maintained and equipped with robust infrastructure. With state-of-the-art data centers and redundant network connections, GraceSol minimizes downtime and offers a high uptime guarantee to keep websites accessible around the clock.
GraceSol is proud to offer budget-friendly web hosting services, making us your go-to choice for affordable hosting solutions. We understand the importance of cost-effectiveness without compromising on quality and reliability. With our hosting plans, you can enjoy competitive pricing while still receiving the features and support needed to power your website.
Our Cheapest Web Hosting Features:
Shared Hosting: Our shared hosting plans are designed to provide an economical solution for individuals and small businesses. Benefit from shared resources, including storage and bandwidth, at a fraction of the cost.

Reliable Performance: Despite our affordable prices, we prioritize delivering reliable performance. Your website will be hosted on high-quality servers, ensuring optimal uptime and fast loading times.

User-Friendly Control Panel: We provide an intuitive control panel that allows you to manage your hosting account with ease. From domain management to email configuration, you'll have full control over your web hosting environment.

Support and Assistance: Our dedicated support team is available to assist you with any hosting-related inquiries. We are committed to providing timely and helpful support to ensure a smooth hosting experience.

Scalability Options: As your website grows, you can easily upgrade your hosting plan to accommodate increased traffic and resource requirements. We offer flexible scalability options to support your evolving needs.
At GraceSol, we prioritize affordability without compromising on the quality of our hosting services. Trust us to provide reliable web hosting solutions that fit your budget, allowing you to establish and grow your online presence without breaking the bank.
Reliable Web Hosting Services GraceSol Technologies
At GraceSol Technologies, we offer professional web hosting services that provide a solid foundation for your online presence, delivering exceptional performance and peace of mind.
Power Your Website with Reliable Web Hosting
Shared Hosting: Our shared hosting plans are an ideal choice for small to medium-sized websites. With shared hosting, your website shares server resources with other websites, making it a cost-effective solution. We provide reliable shared hosting services that offer ample storage space, bandwidth, and email accounts to support your website's needs.

VPS Hosting: If you require more control and resources for your website, our Virtual Private Server (VPS) hosting is a flexible and scalable option. With VPS hosting, you have dedicated server resources and greater customization options. This ensures optimal performance, security, and scalability for your growing online presence.

Dedicated Hosting: For high-traffic websites or applications that demand maximum performance and security, our dedicated hosting plans offer a dedicated server exclusively for your website. With dedicated hosting, you have full control over server configurations, enhanced security measures, and the ability to handle large volumes of traffic without compromising speed or reliability.

Cloud Hosting: Our cloud hosting services provide unparalleled scalability, reliability, and flexibility. With cloud hosting, your website is hosted across multiple servers, ensuring high availability and efficient resource utilization. It enables automatic scaling to accommodate traffic spikes, providing a seamless user experience even during periods of increased demand.

Managed Hosting: If you prefer a hands-off approach to server management, our managed hosting services are designed for you. Our expert team takes care of server setup, maintenance, security updates, and regular backups, allowing you to focus on your core business activities while enjoying the benefits of reliable hosting.

SSL Certificates: We prioritize the security of your website and visitors' data. As part of our web hosting services, we offer SSL certificates to encrypt data transmission, protect sensitive information, and establish trust with your audience. An SSL certificate also contributes to your website's search engine ranking and overall credibility.

24/7 Technical Support: We understand that timely support is essential when it comes to web hosting. Our dedicated support team is available 24/7 to assist you with any hosting-related queries or technical issues. Whether you need assistance with server configuration, troubleshooting, or general guidance, we're here to ensure your hosting experience is seamless.
At GraceSol Technologies, we combine cutting-edge technology, robust infrastructure, and exceptional customer support to deliver reliable web hosting solutions that meet the unique needs of your business. Whether you're a small startup or a large enterprise, our hosting services are designed to provide the performance, security, and scalability required for your online success.