Search Engine Optimization Services in Dubai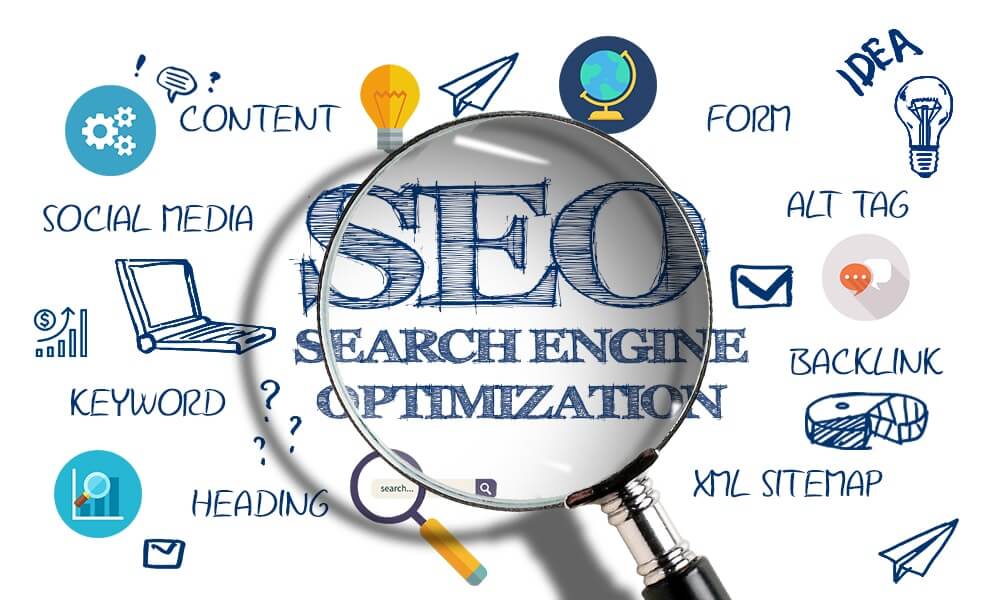 Unlock the potential of your website with our top-notch SEO services in Dubai. At GraceSol, we understand the significance of search engine optimization (SEO) in driving website traffic, promoting your business, and increasing sales. Our full-stack SEO services, including Local SEO, Keyword optimization, Link building, On-page optimization, Off-page optimization, SEO copywriting, Site speed optimization, Ecommerce SEO, Blogging, and more, are designed to enhance your online presence and maximize your sales potential.
As a leading SEO company, we prioritize brand visibility and client trust. Our experienced team focuses on developing customized SEO strategies and tactics that align with your specific business needs. By leveraging industry best practices, data-driven insights, and a consultative approach, we ensure that our SEO efforts deliver tangible business results.
Social Media Marketing Agency in Dubai
Experience the expertise of our top SEO firm as we provide exceptional SEO services and solutions to amplify traffic to your website. With a deep understanding of high search volumes and relevant keywords, our skilled SEO analysts revitalize your website with engaging and scalable content, resulting in increased organic traffic and revenue growth. Our highly talented team offers a comprehensive range of SEO services, including keyword optimization, link building, off-page optimization, and more, all aimed at improving your website's search engine ranking.
As a leading SEO company, we prioritize delivering successful results that enhance the return on investment (ROI) of your business. With years of experience in SEO services, we consistently provide high-quality outcomes for our clients globally. Trust our expertise to optimize your website and drive targeted traffic, resulting in improved visibility and greater revenue generation.Choose our SEO services in Dubai to unlock the full potential of your online presence and achieve lasting success in the digital landscape.
At GraceSol, we provide comprehensive SEO services in Dubai that are designed to enhance your online presence and propel your business growth. Our expert team conducts thorough keyword research, analyzing the most relevant and highly searched terms specific to your industry. By optimizing your website with high-traffic keywords, we improve its search engine rankings, making it more visible to potential customers.
Technical SEO Excellence: As a leading SEO firm, our experienced SEO analysts ensure your website is free from any technical issues that may hinder its performance. We offer technical SEO services such as URL structure optimization and crawlability improvements, ensuring search engines can easily access and understand your site.
On-Page Optimization: Our highly qualified SEO experts develop a well-planned on-page SEO strategy, making your website's content more relevant and engaging to your target audience. We optimize elements such as meta tags, image optimization, and heading tags, boosting your online visibility and driving organic traffic.
Local SEO Expertise: Recognizing the significance of local SEO, our SEO specialists provide location-specific optimizations. We incorporate location-specific terms into your meta title and description, ensuring your business becomes more visible to your target audience in that particular area.
Effective Link Building: Our SEO analysts excel in providing link building services that drive organic traffic from external sources. With a focus on off-page optimization, we build high-quality backlinks and execute content marketing strategies to enhance your website's authority and visibility.
Site Speed Optimization: We understand the importance of a fast-loading website for user experience and search engine rankings. Our SEO specialists offer comprehensive site speed optimization services, ensuring your website meets all performance standards and delivers a seamless experience across all devices.
With our expertise in SEO services, we cater to clients worldwide, offering top-notch solutions such as link building, content marketing, and promotional services. Our goal is to help you achieve high organic rankings, increase traffic, and drive measurable results.
Web Design and Development Services in Dubai
Professional SEO Services in Dubai by GraceSol Technologies
In the highly competitive digital landscape, establishing a strong online presence and achieving high visibility on search engines are vital for driving targeted traffic to your website. GraceSol Technologies specializes in providing comprehensive SEO (Search Engine Optimization) services specifically tailored to meet your unique business objectives.
Elevate Your Online Presence with Effective SEO Strategies
Strategic Keyword Research: Our SEO experts conduct in-depth keyword research to identify the most relevant and valuable keywords for your industry and target audience. By optimizing your website's content around these keywords, we enhance its visibility in search engine results, making it easier for potential customers to discover you.
On-Page Optimization: We optimize your website's structure, meta tags, headings, URLs, and content according to SEO best practices. By ensuring technical soundness and delivering a seamless user experience, we increase the likelihood of higher rankings in search engine results.
Content Strategy: Compelling and informative content is key to SEO success. Our team develops a comprehensive content strategy, crafting engaging blog posts, articles, and other valuable content that not only drives organic traffic but also positions your brand as a thought leader in your industry.
Link Building: We employ white-hat link building strategies to earn high-quality backlinks from reputable websites. These backlinks improve your website's authority and visibility in search engine rankings. Our focus is on building natural and relevant links that adhere to search engine guidelines.
Technical SEO: Our experts optimize technical elements such as site speed, mobile responsiveness, and crawlability to ensure efficient indexing and ranking by search engines. Technical SEO enhancements contribute to a positive user experience and positively impact your search engine rankings.
Local SEO (if applicable): If your business targets a specific geographic area, we optimize your website for local search results. We enhance your Google My Business listing, create local citations, and implement location-specific keywords to boost visibility within your target region.
Performance Tracking and Reporting: We provide regular performance tracking and detailed reports, enabling you to monitor the progress of your SEO campaign. Key metrics, including keyword rankings, organic traffic, and conversion rates, empower you to make informed decisions for further optimizing your online presence.
At GraceSol Technologies, we recognize the significance of a holistic SEO approach in driving targeted traffic and improving online visibility. Our team of SEO experts is committed to implementing effective strategies and staying abreast of the latest industry trends to ensure your success in the digital landscape.