Web Hosting Services in London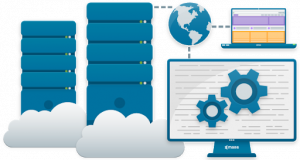 GraceSol offers top-notch Web Hosting Services in London, serving as a trusted and reliable hosting solution provider with over a decade of experience. Our hosting solutions are tailored to meet the needs of businesses of all sizes, delivering a seamless and hassle-free hosting setup. Whether you're operating a small website or a sophisticated web application, our managed hosting services guarantee that your online presence remains secure, high-performing, and consistently accessible.
By choosing GraceSol's managed hosting services, you can channel your focus towards expanding your business while we manage your cloud infrastructure. Our team of seasoned professionals will expertly handle all technical aspects, encompassing server management, robust security measures, regular backups, and necessary updates. Rest assured, your website is entrusted to capable hands, allowing you to navigate your business endeavors with confidence.
Hosting Service Agency in London 
As a premier Hosting Service Agency in London, GraceSol Technologies brings you unparalleled web hosting solutions. Our meticulously crafted hosting services create a steadfast and secure foundation for your website. Upholding competitive pricing, we remain dedicated to delivering the most cost-effective hosting choices in the industry, all while maintaining uncompromised quality.Our Hosting Service Agency in London tailors its offerings to accommodate businesses of all scales. Whether you're embarking on a small-scale startup venture or steering a large enterprise, our diverse hosting packages cater to your unique needs. Anchored by a resilient infrastructure, we ensure swift loading speeds and peak performance, ushering in a seamless user journey for your website visitors.
Entrusting GraceSol Technologies with your hosting requisites guarantees access to dependable servers, round-the-clock technical support, and a dedicated team of specialists committed to sustaining your website's continuous operation. Recognizing the criticality of website availability, our hosting services prioritize unwavering accessibility, ensuring your online platform remains live at all times.With our comprehensive web hosting solutions, you're empowered to direct your energy towards cultivating your online footprint and engaging your target demographic, as we adeptly oversee the technical intricacies. Rely on GraceSol Technologies to furnish you with trustworthy and budget-friendly hosting services in London. Reach out to us today to initiate discussions about your hosting demands and let us play a pivotal role in establishing your commanding online presence.
Reliable Web Hosting Services in London GraceSol Technologies
Experience the excellence of Reliable Web Hosting Services in London with GraceSol Technologies. Our hosting solutions lay a robust cornerstone for your digital presence, delivering unparalleled performance and a sense of assurance. Explore our array of hosting services:
Shared Hosting: Tailored for small to medium-sized websites, our shared hosting plans offer a budget-friendly solution with generous storage, bandwidth, and email provisions.

VPS Hosting: Harness enhanced control and resources through our versatile and scalable Virtual Private Server (VPS) hosting, ensuring optimal performance and customizable options.

Dedicated Hosting: Designed for high-traffic websites, our dedicated hosting plans provide an exclusive server for utmost performance, security, and management of substantial visitor volumes.

Cloud Hosting: Immerse yourself in unmatched scalability, reliability, and adaptability with our cloud hosting services, guaranteeing elevated availability and resource efficiency.

Managed Hosting: Delegate server management to our adept professionals via our managed hosting services, empowering you to center on your enterprise while enjoying steadfast hosting support.

SSL Certificates: Elevate your website's security with our SSL certificates, encrypting data transmission and bolstering search engine ranking and credibility.
Rely on our round-the-clock technical support, ensuring prompt aid for any hosting inquiries or technical quandaries. Place your confidence in GraceSol Technologies for dependable web hosting that aligns with your business's unique requisites. Initiate a conversation today to converse about your hosting prerequisites and amplify your online presence.
Best Hosting Services in UK