LINKEDIN MARKETING SERVICES
We are a Leading LinkedIn Marketing Company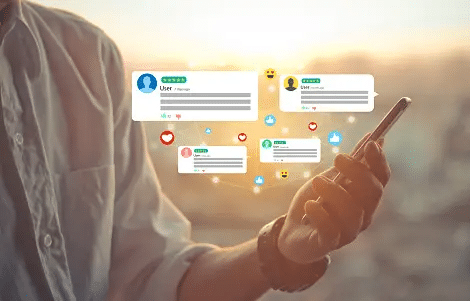 LinkedIn is a powerful platform for professionals and businesses to connect, network, and establish thought leadership. At GraceSol Technologies, we offer comprehensive LinkedIn Marketing services to help you leverage this platform effectively. Our expert team understands the nuances of LinkedIn's professional environment and develops customized strategies to maximize your brand's visibility and engagement. From crafting compelling LinkedIn profiles to creating engaging content and implementing targeted advertising campaigns, we ensure your brand stands out among industry peers and attracts the right audience. With our LinkedIn Marketing services, you can establish your brand as an industry leader, connect with potential clients and partners, and generate valuable leads. Trust GraceSol Technologies to optimize your LinkedIn presence and unlock the full potential of this professional networking platform. Let us help you take your business to new heights through strategic LinkedIn Marketing.
LinkedIn Marketing Services Provider 
As a trusted LinkedIn Marketing Services provider, GraceSol Technologies is dedicated to helping professionals and businesses harness the power of LinkedIn for their marketing success. Our comprehensive suite of services is designed to enhance your professional brand, expand your network, and drive business growth.With our expertise in LinkedIn marketing strategies, we offer tailored solutions to optimize your LinkedIn presence. From profile optimization and content creation to targeted advertising and lead generation, we ensure your brand stands out in the competitive professional landscape.Our experienced team understands the dynamics of LinkedIn and its unique audience. We develop customized strategies to engage your target audience, build meaningful connections, and establish your thought leadership. With our data-driven approach and continuous monitoring, we ensure your LinkedIn marketing efforts deliver measurable results.Partnering with GraceSol Technologies means gaining a competitive edge on LinkedIn. We stay updated with the latest trends and best practices, ensuring your brand stays ahead of the curve. Let us be your trusted partner in unlocking the full potential of LinkedIn for your professional success. Elevate your brand, expand your network, and achieve business growth with our LinkedIn Marketing Services.
Social Media Marketing Company
Digital Marketing Solutions for Success
GraceSol is a leading digital marketing service provider, dedicated to helping businesses thrive in the online landscape. Our comprehensive range of digital marketing services covers all aspects of your online presence, from strategy development to execution and optimization. With a focus on delivering measurable results, we tailor our solutions to align with your specific business goals and target audience.
Strategic Planning and Consultation
At GraceSol, we understand the importance of a well-defined digital marketing strategy. Our experienced consultants work closely with you to understand your business objectives, target market, and competition. By conducting thorough research and analysis, we develop a customized digital marketing plan that encompasses the most effective channels and tactics to maximize your online visibility and drive meaningful engagement.
Search Engine Optimization (SEO)
Our SEO services are designed to improve your website's organic search rankings and increase visibility in search engine results. Our team of SEO experts employs industry best practices, keyword research, on-page optimization, and technical enhancements to ensure your website is well-optimized for search engines. By improving your website's visibility, we drive targeted organic traffic that can result in higher conversions and business growth.
Pay-Per-Click (PPC) Advertising
As a certified Google Ads partner, we specialize in creating and managing highly targeted PPC campaigns across various platforms, including Google Ads, Bing Ads, and social media advertising. Our PPC experts develop customized strategies to maximize your return on investment (ROI) by selecting relevant keywords, optimizing ad copy, and monitoring campaign performance. We continuously optimize campaigns to drive qualified traffic, increase conversions, and maximize your advertising budget.
Social Media Marketing
Our social media marketing services help you leverage the power of popular social media platforms to engage your target audience, build brand awareness, and drive website traffic. We develop comprehensive social media strategies tailored to your business, create compelling content, and manage your social media presence. By leveraging advanced targeting options and analytics, we ensure your social media efforts deliver tangible results.
Content Marketing
Compelling and relevant content is the backbone of any successful digital marketing strategy. Our content marketing services include content creation, optimization, and distribution across various channels. From engaging blog posts and informative articles to captivating videos and infographics, our team produces high-quality content that resonates with your audience, establishes thought leadership, and drives engagement.
Conversion Rate Optimization (CRO)
We understand the importance of optimizing your website to convert visitors into customers. Our CRO specialists analyze user behavior, conduct A/B testing, and implement strategies to improve website usability and drive conversions. By identifying and addressing any barriers to conversion, we help maximize the performance of your website and increase your overall ROI.
Partner with the Leading Digital Marketing Service Provider
Choosing GraceSol as your digital marketing service provider means gaining access to our expertise, cutting-edge technologies, and a team dedicated to your success. We stay updated with the latest trends and technologies to ensure your digital marketing campaigns are effective and competitive. Let us be your partner in achieving online success and reaching new heights in the digital landscape.
LinkedIn Marketing Solutions for Professionals and Businesses | GraceSol Technologies
LinkedIn is more than just a professional networking platform—it's a powerful tool for building your brand, expanding your network, and driving business growth. At GraceSol Technologies, we offer comprehensive LinkedIn Marketing solutions tailored to your unique goals and objectives.
Our team of experts understands the intricacies of LinkedIn and how to leverage its features to maximize your professional presence. From optimizing your LinkedIn profile and creating engaging content to running targeted advertising campaigns and generating high-quality leads, we have the expertise to elevate your LinkedIn marketing strategy.
With our data-driven approach and continuous monitoring, we ensure your LinkedIn efforts deliver measurable results. Whether you're a professional looking to establish thought leadership, a business seeking to expand your reach, or a brand aiming to generate leads, our LinkedIn Marketing services can help you achieve your objectives.
Partner with GraceSol Technologies and unlock the full potential of LinkedIn for your brand's success. Let us be your trusted guide in navigating the world of LinkedIn Marketing and position your business for growth. Elevate your professional brand, connect with industry leaders, and unlock new opportunities with our tailored LinkedIn Marketing solutions.