WordPress Development Services
Get fully customized WordPress website which is optimized for
maximum performance and best user experience.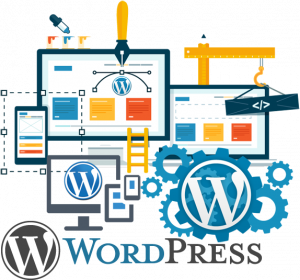 Many people assume that the user-friendliness of WordPress means that anyone can design a top-notch website. While this is true to an extent, building out a highly intuitive platform that creates meaningful relationships with visitors, seamlessly guides them down the buyer's journey, and perfectly exemplifies brand values takes a very, very specialized touch. At GraceSol, WordPress website design and development has been a core forte of our team since day one. In fact, about 95% of the websites we build are on WordPress. Since we started our operation, we have developed WordPress websites across many different industries in both the B2B and B2C sector.
Certified WordPress Developers
WordPress is a platform that offers maximum flexibility. When you have decided to hire the Remote WordPress Developer, then you should consider GraceSol is the best option. We are enabled with the best of the technologies to overcome all the barriers of remote and office working. Our team of qualified WordPress Developer will provide you the best website to represent your business. Our resources are available for full-time projects as well as for short-term projects on the need basis. We like to keep ourselves up breast with the trends in the e-commerce market to help our clients grow. Our resources are highly qualified professionals with hands-on experience in managing WordPress development and designing projects from start to end.
Hire WordPress Developers 
WordPress – running as 29 percent of the Internet. Isn't impressive? Yes, because easy to understand, pretty to look and rapid to develop. World's fastest blogging and Content Management System is proud to have the massive users and site owners. Anyone with the least knowledge of blogging can run the site and manage the blog posts. Because it has zero complexity when it comes to operating it.
Yes, we recommend developing a website in WordPress because anyone with the PHP knowledge base can help you in customizing the site, too. Because WordPress is based on PHP framework and is continuing to emerge as the smart technology for developing websites. Anyone with the desire to develop a website in short amount of time span can go with the WordPress because it has everything to get started with. Numerous plugins and extraordinary themes make the WordPress smarter and intelligible. You should hire WordPress Developer if you are looking for a web development solution in the smarter way as well as digestible to everyone's knowledge. Because it has plugins for every related solution of a website. Whether it is about search engine optimization or complex payment integration. Also, it is working great with the appealing look of your website. You can hire a GraceSol and demand for the attractive look & feel, branding impression with great SEO and of course, amazing performance of the website.
WordPress Development Services by GraceSol Technologies
WordPress has emerged as one of the most popular content management systems (CMS) in the world, powering millions of websites across various industries. At GraceSol Technologies, we offer professional WordPress development services to help businesses create stunning, functional, and user-friendly websites that drive online success.
Harness the Power of WordPress for Your Website
Custom WordPress Website Development: Our team of experienced WordPress developers specializes in creating custom websites that align with your unique business requirements and brand identity. From design to development, we tailor every aspect of your website to provide a seamless user experience, enhanced functionality, and a visually appealing online presence.

Responsive Web Design: With the increasing use of mobile devices, having a responsive website is crucial. We ensure your WordPress website is fully responsive, adapting to different screen sizes and devices. This guarantees optimal user experiences and ensures that your website looks and performs flawlessly across desktops, tablets, and smartphones.

Theme Customization: We provide theme customization services to make your WordPress website stand out from the crowd. Whether you have a pre-existing theme or need a custom design, our developers can modify and enhance the theme to match your brand aesthetics, incorporate unique features, and create a visually stunning website that captures your target audience's attention.

Plugin Development and Integration: Extend the functionality of your WordPress website with custom plugin development and integration. Our developers can create custom plugins tailored to your specific needs, ensuring seamless integration and enhanced capabilities. Whether you require advanced e-commerce features, membership management, or custom forms, we can build plugins that enhance your website's functionality.

E-Commerce Development with WooCommerce: If you're looking to sell products or services online, we specialize in developing robust and scalable e-commerce websites using WooCommerce. As a powerful e-commerce plugin for WordPress, WooCommerce offers a range of features for inventory management, payment gateway integration, order processing, and more. We create seamless and secure e-commerce solutions that drive conversions and maximize sales.

Website Optimization and Performance: A fast and optimized website is essential for user satisfaction and search engine visibility. Our WordPress development services include optimizing your website's performance, improving loading times, and enhancing overall site speed. We implement caching techniques, image optimization, code optimization, and other best practices to ensure your website delivers a smooth and efficient user experience.

Website Migration and Maintenance: If you're looking to migrate your existing website to WordPress, our developers can handle the process seamlessly, ensuring a smooth transition without any data loss or disruptions. Additionally, we provide comprehensive website maintenance services to keep your WordPress website secure, up to date, and functioning optimally. From regular updates to security monitoring, we take care of the technical aspects, allowing you to focus on growing your business.
At GraceSol Technologies, we combine our technical expertise, creativity, and deep knowledge of WordPress to deliver professional WordPress development services that help businesses thrive online. Whether you're a small startup or a large enterprise, our team is committed to providing customized solutions that exceed your expectations and drive tangible results.
Web Design and Development Services