FACEBOOK MARKETING SERVICES
We are a Leading Facebook Marketing Company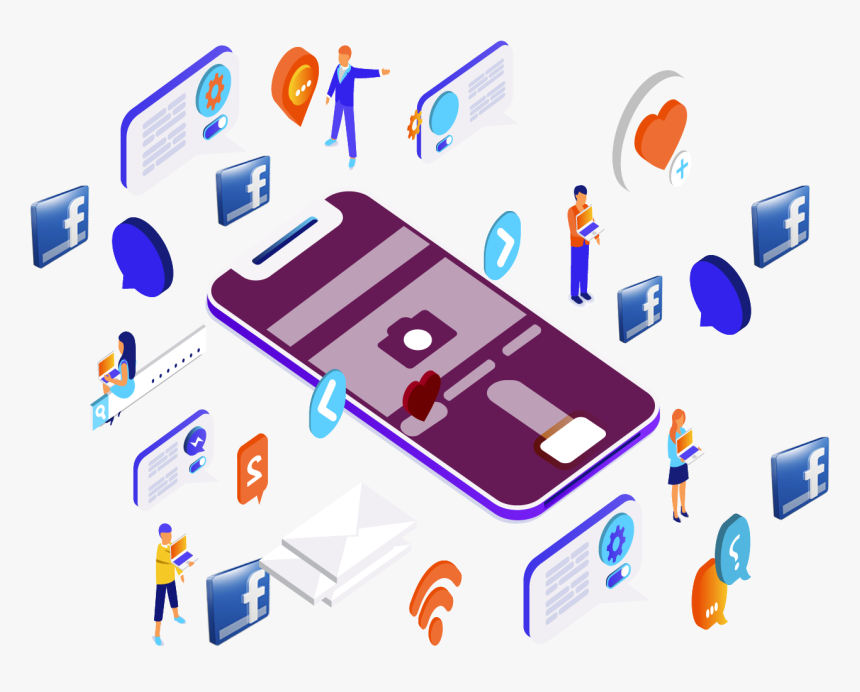 For a generation that thrives on social media and web, modern day bussiness owners have certainly transitioned from selling offline to online. If you are trying to reach potential clients online, Facebook Marketing is the way to go. That's where we come in – a specialized Facebook Marketing Company! Our tried and tested techniques Facebook Marketing Strategies can help you reach out to targeted audiences and in turn get traffic, leads, sales and a loyal customer base.
There are millions Facebook users. Hence, Facebook Marketing agencies are mushrooming. It is becoming increasingly essential to only target those audiences that would turn into your potential customers in the long run. When you run ad campaigns on Facebook, your product gets immediate visibility and the best return on investment. Increased traffic to your website also helps propel your Google results to an extent. The main USP of Facebook campaigns lies in the kind of varied Targeting parameters it offers, thus, differentiating it from the other social media platforms. This makes the platform an absolute MUST in your digital marketing strategy to promote your products and services!
Facebook Marketing Services Provider 
Facebook advertising are reportedly the new Meta, according to rumours. With the platform's identity having undergone such a drastic change, marketing methods are now more flexible than ever. Now is not the time to believe that you can attract those users through paid advertising. Fortunately, GraceSol's skilled team has been at the forefront of effective, seamlessly integrated campaigns that produce results regardless of how the internet environment decides to change. Eat your heart out, Zuckerberg. Like its parent company Meta, this platform is designed to help businesses expand. To get to the top, though, requires perseverance and hard work; advancement does not just happen overnight. No matter how little your budget is. But the reality is that progress doesn't just happen overnight; it requires perseverance and grit to rise to the top. Even if you don't have a huge advertising budget to blow, our experts can help you get the most for your money so you can increase visitors to your website. Ever had a ROI that exploded? You're about to work with our Facebook advertising agency. If you own your own business, you'll be quite busy. Despite how simple Facebook Advertising is to utilise, your campaign will need the right amount of attention to be successful. One of the top Facebook marketing agencies as well as globally, GraceSol can assist your business in increasing lead generation through social media marketing campaigns. If you have any questions, a Facebook marketing company like WMG can assist you. A Facebook advertising agency works swiftly, from developing concepts to delivering results. Our experts have contributed to a few of the most well-liked Facebook sites.
Digital Marketing Solutions for Success
GraceSol is a leading digital marketing service provider, dedicated to helping businesses thrive in the online landscape. Our comprehensive range of digital marketing services covers all aspects of your online presence, from strategy development to execution and optimization. With a focus on delivering measurable results, we tailor our solutions to align with your specific business goals and target audience.
Strategic Planning and Consultation
At GraceSol, we understand the importance of a well-defined digital marketing strategy. Our experienced consultants work closely with you to understand your business objectives, target market, and competition. By conducting thorough research and analysis, we develop a customized digital marketing plan that encompasses the most effective channels and tactics to maximize your online visibility and drive meaningful engagement.
Search Engine Optimization (SEO)
Our SEO services are designed to improve your website's organic search rankings and increase visibility in search engine results. Our team of SEO experts employs industry best practices, keyword research, on-page optimization, and technical enhancements to ensure your website is well-optimized for search engines. By improving your website's visibility, we drive targeted organic traffic that can result in higher conversions and business growth.
Pay-Per-Click (PPC) Advertising
As a certified Google Ads partner, we specialize in creating and managing highly targeted PPC campaigns across various platforms, including Google Ads, Bing Ads, and social media advertising. Our PPC experts develop customized strategies to maximize your return on investment (ROI) by selecting relevant keywords, optimizing ad copy, and monitoring campaign performance. We continuously optimize campaigns to drive qualified traffic, increase conversions, and maximize your advertising budget.
Social Media Marketing
Our social media marketing services help you leverage the power of popular social media platforms to engage your target audience, build brand awareness, and drive website traffic. We develop comprehensive social media strategies tailored to your business, create compelling content, and manage your social media presence. By leveraging advanced targeting options and analytics, we ensure your social media efforts deliver tangible results.
Content Marketing
Compelling and relevant content is the backbone of any successful digital marketing strategy. Our content marketing services include content creation, optimization, and distribution across various channels. From engaging blog posts and informative articles to captivating videos and infographics, our team produces high-quality content that resonates with your audience, establishes thought leadership, and drives engagement.
Conversion Rate Optimization (CRO)
We understand the importance of optimizing your website to convert visitors into customers. Our CRO specialists analyze user behavior, conduct A/B testing, and implement strategies to improve website usability and drive conversions. By identifying and addressing any barriers to conversion, we help maximize the performance of your website and increase your overall ROI.
Partner with the Leading Digital Marketing Service Provider
Choosing GraceSol as your digital marketing service provider means gaining access to our expertise, cutting-edge technologies, and a team dedicated to your success. We stay updated with the latest trends and technologies to ensure your digital marketing campaigns are effective and competitive. Let us be your partner in achieving online success and reaching new heights in the digital landscape.
Harness the Power of Facebook Marketing for Business Success by GraceSol Technologies
GraceSol Technologies, your trusted partner for harnessing the power of Facebook marketing to drive business success. In today's digital landscape, Facebook has become a vital platform for businesses to connect with their target audience, build brand awareness, and drive conversions. With our expertise in digital marketing, web development, web design, social media marketing, graphic design, web hosting, and Google Ads services, we are dedicated to delivering tailored Facebook marketing strategies that help you achieve your business objectives.
Why Choose GraceSol Technologies for Facebook Marketing?
Targeted Advertising: We leverage Facebook's advanced targeting capabilities to reach your ideal audience. By utilizing demographic, interest-based, and behavioral targeting options, we ensure that your ads are seen by the right people, increasing the likelihood of engagement and conversions.

Compelling Ad Creatives: Our creative team designs visually appealing and engaging Facebook ad creatives that capture attention and drive action. We optimize the ad visuals, copy, and call-to-action buttons to maximize click-through rates and generate meaningful results.

Campaign Optimization: We continuously monitor and optimize your Facebook ad campaigns to improve their performance. Through A/B testing, audience analysis, and performance tracking, we refine your campaigns, maximizing their effectiveness and return on investment.

Remarketing Strategies: We implement remarketing strategies on Facebook to target users who have previously interacted with your brand or visited your website. By re-engaging these users with relevant ads, we enhance brand recall, nurture customer relationships, and drive conversions.

Analytics and Reporting: We provide comprehensive analytics and reporting to track the performance of your Facebook ad campaigns. We offer valuable insights into key metrics such as reach, engagement, and conversions, enabling data-driven decision-making and campaign optimization.
Our Facebook Marketing Process:
Strategy and Objective Setting: We work closely with you to define your Facebook marketing objectives and develop a customized strategy aligned with your business goals. We identify target audiences, messaging approaches, and campaign objectives to guide our efforts.

Audience Research and Targeting: We conduct in-depth audience research to understand your target market's demographics, interests, and behaviors. Based on this research, we create custom audience segments and target them with tailored messaging.

Ad Creative Development: Our creative team designs captivating Facebook ad creatives that resonate with your target audience. We craft compelling visuals, persuasive copy, and effective call-to-action elements to maximize engagement and conversions.

Campaign Execution and Optimization: We launch your Facebook ad campaigns, closely monitoring their performance and making data-driven optimizations along the way. We continuously refine targeting, ad placements, and messaging to maximize campaign effectiveness.

Performance Tracking and Reporting: We provide detailed performance reports, highlighting key metrics and insights on the success of your Facebook ad campaigns. We review the results with you, identify areas of improvement, and provide recommendations for future campaigns.
Unlock the full potential of Facebook marketing for your business with GraceSol Technologies.