Business Intelligence Development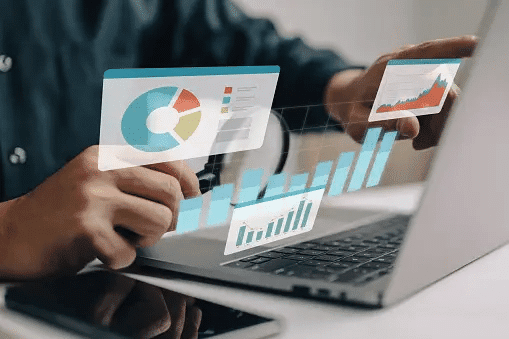 At Gracesol Technologies, we specialize in Business Intelligence (BI) development services to help businesses unlock the power of their data and gain valuable insights. Our expert team of developers combines their technical expertise with business acumen to create customized BI solutions tailored to your specific needs. We leverage advanced tools and technologies to extract, transform, and analyze your data, enabling you to make informed decisions and drive strategic growth. Whether you need interactive dashboards, data visualizations, or predictive analytics, we have the expertise to deliver comprehensive BI solutions. Trust us to empower your business with actionable insights, improved reporting, and enhanced data-driven decision-making. Partner with Gracesol Technologies for top-notch Business Intelligence development services that drive your business success.
Business Intelligence Development Agency
At Gracesol Technologies, we combine the power of Artificial Intelligence (AI) with Business Intelligence (BI) development services to provide businesses with actionable insights and intelligent decision-making capabilities. Our expert team of developers leverages AI algorithms and machine learning techniques to analyze large volumes of data and extract meaningful patterns and trends. With our AI-powered BI solutions, you can gain a deeper understanding of your business operations, customer behavior, and market trends. We offer interactive dashboards, advanced data visualizations, predictive analytics, and AI-driven recommendations to drive your business growth. Our goal is to empower you with real-time insights, optimize operational efficiency, and make data-driven decisions with confidence. Partner with Gracesol Technologies for cutting-edge AI-enabled Business Intelligence development services that transform your data into a strategic asset for your business success.
An international software development company with a focus on cutting-edge technology, GraceSol . To put together a group of skilled programmers who can assist them in achieving their objective, we work closely with our clients. We've had eight years to build up a strong reputation and substantial expertise in this area. We take pride in making sure that our clients have access to the most up-to-date technical breakthroughs by providing highly effective solutions and staying current on the latest trends. Your firm will have the chance to work with some of the most experienced industry experts, whose creative software and application development skills may propel your organisation to the next level of success, should you choose to associate with GraceSol as your business partner. 
Transform Your Data into Actionable Insights with Business Intelligence | GraceSol Technologies
At GraceSol Technologies, we understand the power of data-driven decision-making in today's competitive business landscape. That's why we offer comprehensive Business Intelligence (BI) solutions to help you transform your data into actionable insights. Our expert team combines advanced analytics techniques, data visualization, and intuitive dashboards to provide you with a holistic view of your business performance. With our BI services, you can uncover hidden patterns, identify trends, and make informed decisions that drive your business growth. Whether you need data integration, reporting, predictive analytics, or self-service BI tools, we have the expertise to deliver tailored solutions. Trust GraceSol Technologies to harness the full potential of your data and gain a competitive edge in your industry. 
Custom Software Solutions Designed for Your Success
Analysis and Consultation: Our software development process begins with a thorough analysis of your business requirements and objectives. We work closely with you to understand your unique challenges and goals, enabling us to provide tailored software solutions that address your specific needs.

Custom Application Development: Our skilled software developers have expertise in a wide range of programming languages and technologies. Whether you need a web-based application, mobile app, or desktop software, we have the capabilities to deliver customized solutions that align with your business processes and enhance your operations.

User Experience Design: We believe that great software goes beyond functionality – it should also provide a seamless user experience. Our UX/UI designers collaborate with our developers to create intuitive and visually appealing interfaces that optimize user engagement and satisfaction.

Integration and Migration: If you have existing systems or databases that need to be integrated with your new software, we can seamlessly integrate them to ensure a smooth workflow. Additionally, if you require migrating your data from legacy systems to the new software, we provide efficient and secure data migration services.

Quality Assurance and Testing: We adhere to industry best practices for quality assurance and testing to ensure that your software is robust, secure, and reliable. Our dedicated QA team conducts rigorous testing throughout the development lifecycle, identifying and resolving any issues to deliver a high-quality end product.

Ongoing Support and Maintenance: Our commitment to your success extends beyond the development phase. We provide comprehensive support and maintenance services to keep your software up-to-date, secure, and performing optimally. Whether it's resolving technical issues, implementing updates, or providing user training, we are here to support you.

Scalable Solutions: We design and develop software solutions with scalability in mind. As your business grows and evolves, your software should be able to accommodate increased demands. Our scalable solutions enable seamless expansion and adaptability to meet your changing requirements.
At GraceSol Technologies, we combine technical expertise, industry experience, and a customer-centric approach to deliver custom software solutions that empower your business. Our team of software development professionals is committed to excellence and dedicated to helping you achieve your business goals through innovative and reliable software solutions.
 Software Development Service Provider