Graphic Designing Services
There is more to good graphic design than just good art. Building a cohesive brand that conveys a message to your clients and audience is the goal.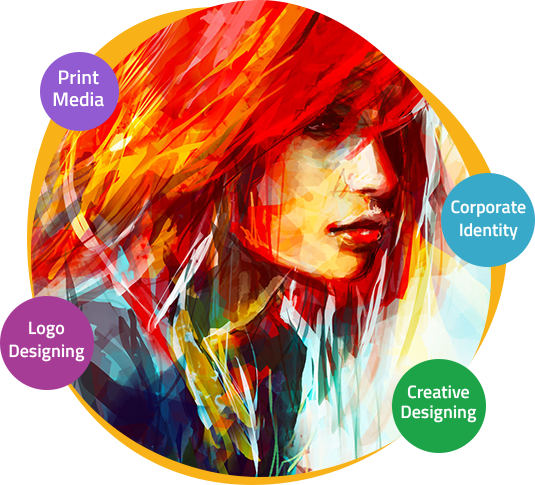 For your website, brand, or any other project you're working on, we adore using our enthusiasm to produce great designs. Let us demonstrate what a stunning visual statement looks like in practise. Your marketing strategy will not succeed if you don't spend time and money on graphic design services. Successful businesses are aware that a sizeable portion of their marketing performance depends on the graphics they have selected and how well they connect with viewers. Images that convey who your company is and what it does should have a long shelf life.
Before reading your text, readers will first notice your visuals. If your logo and other site graphics appear hurriedly put together and unprofessional, readers will assume the same about your brand. Some of the sharpest and most gifted digital artists are among our graphic designers. Each member of our team has studied and honed their art, and we have a portfolio to illustrate what we are truly capable of.
We are prepared to develop something genuinely remarkable for you, whether you require wedding invitations or a new corporate logo.
Comprehensive Design Solutions for Your Business
GraceSol is a leading provider of designing services, dedicated to helping businesses stand out with visually captivating and impactful designs. From graphic design to web design and beyond, our team of talented designers brings creativity, expertise, and attention to detail to every project, delivering exceptional designs that leave a lasting impression.
Graphic Design Services
Our graphic design services cover a wide range of visual communication needs. Whether you require a logo, branding materials, marketing collateral, or print designs, our designers work closely with you to understand your brand identity and objectives. We create visually appealing designs that effectively convey your message and resonate with your target audience, helping your brand make a memorable impact.
Web Design and User Experience (UX)
In the digital age, a well-designed website is essential for attracting and engaging visitors. Our web design services focus on creating visually stunning and user-friendly websites that deliver a seamless user experience. From wireframing and prototyping to responsive design and interactive elements, we ensure that your website not only looks great but also functions flawlessly across devices and browsers.
Mobile App Design
With the increasing popularity of mobile applications, having an appealing and user-friendly app design is vital for success. Our team specializes in mobile app design, creating intuitive interfaces that enhance user engagement and satisfaction. We focus on usability, visual aesthetics, and brand consistency to deliver mobile app designs that align with your business goals and captivate your target audience.
UI/UX Design
User interface (UI) and user experience (UX) are critical factors in the success of digital products and services. Our UI/UX design services focus on creating intuitive and visually appealing interfaces that optimize user interactions and deliver a delightful experience. Through research, wireframing, prototyping, and usability testing, we ensure that your digital products are engaging, functional, and user-centric.
Print Design and Marketing Collateral
Print materials remain an important aspect of marketing and communication. Our print design services encompass a wide range of materials, including brochures, flyers, business cards, posters, and packaging designs. We create eye-catching designs that effectively convey your brand's message and capture the attention of your target audience.
Brand Identity Design
Establishing a strong and cohesive brand identity is essential for business success. Our brand identity design services encompass logo design, color palettes, typography, and visual elements that reflect your brand's personality and values. We work closely with you to create a unique and recognizable brand identity that resonates with your audience and sets you apart from the competition.
Partner with the Leading Designing Service Provider
Choosing GraceSol as your designing service provider means partnering with a team of passionate designers who are dedicated to delivering exceptional designs that elevate your brand presence. We combine creativity, technical expertise, and a deep understanding of design principles to create visually stunning and impactful designs. Let us be your creative partner in bringing your ideas to life and captivating your audience through the power of design.
GraceSol is an expert in imaginative graphic design that produces magical online experiences. With the best visual designs, we inspire people to take action. We are a small team of talented graphic designers who really believe that design has influence. We also emphasise the process of designing logos. Our strategy process, which forges a road and leads you to your marketing choice, deserves credit for our fantastic job in addition to our creative design work. We are a group of experts who are not only skilled in print and web design but also enthusiastic about what they do. We are a group of brand specialists and creative thinkers that are truly passionate about building enduring brands. We are your premier and distinctive graphic design firm with the skills to work on any new project. Everything is waiting for you from us. Therefore, you can be sure to receive the best services from our side whether you want to create a new visual page or simply rebuild an existing one. As a Toronto graphic design firm, we have partnered with various experts who are prepared to impart their knowledge to you.
Graphic Design Services by GraceSol Technologies
At GraceSol Technologies, we understand the importance of visually captivating designs in today's digital landscape. Our Graphic Design Services are tailored to meet the unique needs of businesses and individuals seeking to make a lasting impression. With our team of skilled designers and creative experts, we offer a comprehensive range of graphic design solutions to enhance your brand's identity and elevate your online presence.
Our Graphic Design Services include:
Logo Design: We create captivating logos that reflect your brand's essence and leave a lasting impression on your target audience. Our designs are crafted to be versatile, memorable, and visually appealing, ensuring that your brand stands out from the competition.

Marketing Collateral: From brochures and flyers to business cards and banners, we design stunning marketing materials that effectively communicate your message and captivate your audience. Our designs are tailored to align with your brand guidelines and enhance your marketing efforts.

Website Graphics: Our talented designers create visually appealing website graphics that enhance user experience and engagement. From eye-catching banners and sliders to captivating icons and illustrations, we ensure that your website delivers an exceptional visual impact.

Social Media Graphics: Engage your social media followers with striking graphics that tell your brand's story. Our team crafts visually stunning posts, covers, and banners optimized for various social media platforms, helping you maximize your reach and drive user engagement.

Infographics: Simplify complex information and captivate your audience with visually appealing infographics. Our designers have the expertise to transform data and statistics into compelling visual narratives that are easily understood and shared.

Branding and Identity Design: Establish a strong brand identity with our comprehensive branding and identity design services. We create cohesive visual elements, including color palettes, typography, and brand guidelines, to ensure consistent and impactful branding across all channels.
At GraceSol Technologies, we believe that effective graphic design is more than just aesthetics. It is about communicating your brand's message, evoking emotions, and leaving a lasting impression. Trust us to deliver exceptional graphic design solutions that will elevate your brand and drive your business forward.
Graphic Design Services Provider